Trump Condemned For Tweeting About 'Jexodus' After NZ Mosque Shooting: 'Not The Day for This'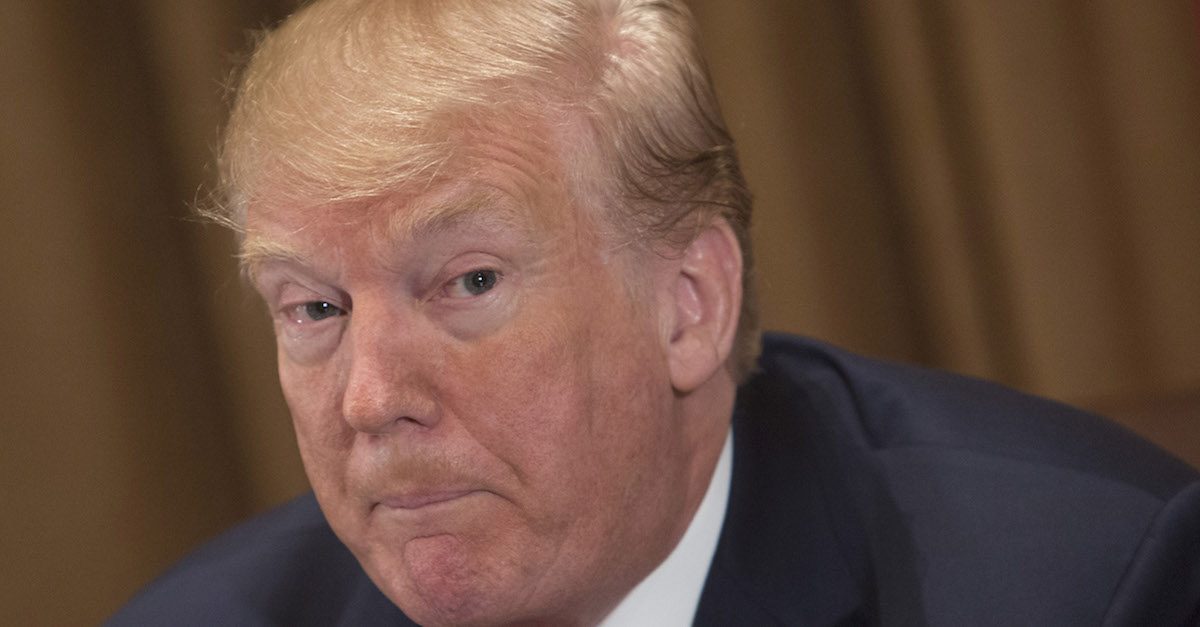 About 20 minutes after offering sympathy to New Zealand for the dozens of people who were killed and injured in last night's shooting, President Donald Trump got right back to attacking his political enemies on Twitter.
First, Trump decided to re-up a Fox & Friends segment from earlier this week that focused on "Jexodus," the idea that Jewish Americans are leaving the Democratic Party in droves because of how the left handled Rep. Ilhan Omar's (D-MN) recent anti-Semitism controversy.
The 'Jexodus' movement encourages Jewish people to leave the Democrat Party. Total disrespect! Republicans are waiting with open arms. Remember Jerusalem (U.S. Embassy) and the horrible Iran Nuclear Deal! @OANN @foxandfriends

— Donald J. Trump (@realDonaldTrump) March 15, 2019
He's also going after Robert Mueller because of the "devastating" testimony Peter Strzok gave about the FBI's investigations of the Trump 2016 campaign.
"New evidence that the Obama era team of the FBI, DOJ & CIA were working together to Spy on (and take out) President Trump, all the way back in 2015." A transcript of Peter Strzok's testimony is devastating. Hopefully the Mueller Report will be covering this. @OANN @foxandfriends

— Donald J. Trump (@realDonaldTrump) March 15, 2019
While Trump railing against his political enemies might not be that surprising, people are not impressed with his divisive jabs while everyone's focused on the Islamophobia-inspired massacre that left 49 people dead and dozens of others wounded.
Saying that American Jews should join the Republican Party because of "Jerusalem (U.S. Embassy) and the horrible Iran Nuclear Deal" is a pretty explicit claim that the best way Republicans can attract Jewish support is by appealing to our purported dual loyalties. Not great.

— Matthew Gertz (@MattGertz) March 15, 2019
probably not the day for this huh https://t.co/NVkEvwaX8P

— David Mack (@davidmackau) March 15, 2019
This is where he shows either complete tone-deafness amid current events..

…or, diabolically, knows exactly what he's doing.

Either way, a dangerous purveyor of hate and division. https://t.co/Co9wvVeoaL

— Michelangelo Signorile (@MSignorile) March 15, 2019
Trump manages to be both Islamophobic and oddly insulting to Jews ("Jexodus"? Really?) on the same day as a mass terrorist named him as an inspiration for the murders. https://t.co/grmhsG3UCj

— David Atkins #11Justices (@DavidOAtkins) March 15, 2019
Well, he's really got his finger on the pulse of the nation and the world. https://t.co/viS2sfaV6N

— Jeryl Bier (@JerylBier) March 15, 2019
Is Fox News even covering Christchurch? https://t.co/fziKC6jlpq

— Norm Wilner (@normwilner) March 15, 2019
Trump is now stoking religious division immediately after tweeting out a post-#ChristchurchMosqueAttack condolence message. Add it to the pile. https://t.co/JT23nToIad

— Kevin Baron (@DefenseBaron) March 15, 2019
its seems remarkably tone deaf to target a particular faith so close to a particular faith being LITERALLY targeted https://t.co/ceFGccsb9m

— Colby Hall (@colbyhall) March 15, 2019
Not the morning for this https://t.co/5tbnSzgS4N

— Yashar Ali 🐘 (@yashar) March 15, 2019
[Photo via Getty Images]
— —
>> Follow Ken Meyer (@KenMeyer91) on Twitter
Have a tip we should know? [email protected]