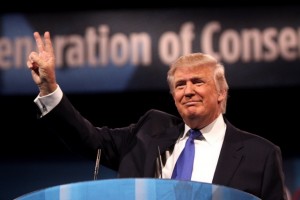 It's no secret that GOP presidential nominee Donald Trump has been antagonistic toward the media for a long time, as have his followers. Insulting reporters is nothing new for his campaign, and neither is banning them from events in small quantities, but wholesale bans are a new one.
That didn't stop him from enacting one today!
Campaign manager Kellyanne Conway said American press would be present…
.@KellyannePolls says Trump could make a statement while in Mexico, "there's going to be press availability. Mexican press, American press"

— Chris Snyder (@ChrisSnyderFox) August 31, 2016
…but CNN's Jeremy Diamond said that Trump routed the media plane away from Mexico and put the press in Phoenix, where he will give a speech later:
And yet press charter plane run by Trump campaign was directed to Phoenix. No regular traveling press will be in Mex https://t.co/Urxms4TYYr

— Jeremy Diamond (@JDiamond1) August 31, 2016
From the AP's Jill Colvin:
Trump is setting a distressing precedent today. He's traveling to Mexico. His traveling press has not been invited along. We're in Phoenix.

— Jill Colvin (@colvinj) August 31, 2016
From CNN's Brian Stelter:
This morning's logistics call between Trump press aides & beat reporters was heated– lots of frustration about lack of access to Mexico mtg

— Brian Stelter (@brianstelter) August 31, 2016
Today's media winners: news outlets that have Mexico City bureaus.

— Brian Stelter (@brianstelter) August 31, 2016
Here's why this is an issue:
Trump's traveling press corps will not be with him in Mexico. That's unusual/unprecedented for a nominee taking a foreign trip…

— Robert Costa (@costareports) August 31, 2016
Trump has not sent any info to press list about schedule or press logistics for Mexico trip. I wonder what reporting/images we will get.

— Josh Barro (@jbarro) August 31, 2016
The campaign will have much more freedom to sculpt the narrative around the trip. Yes, reporters stationed in Mexico will be able to document the event and a few reporters from America may even be able to get down there on their own in time, but those left in Phoenix are the ones who have been covering the campaign and thus, are the ones with the background knowledge to craft comprehensive pieces of reporting on the trip.
So, Trump will have press event in Mexico, & press who travel w/ him & covered him for past yr won't be there https://t.co/RJuXaMWM3b

— Noah Gray CNN (@NoahGrayCNN) August 31, 2016
The trip was announced last-minute last night.
[image via Gage Skidmore]
Have a tip we should know? tips@mediaite.com