Trump Fan Stuns Brooke Baldwin With Talk of Dismembered Babies, Harlots, and the 'Oral Office'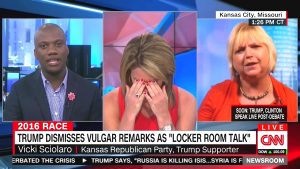 The following clip from is of an interview segment that got progressively more intense.
Brooke Baldwin invited Shaun Harper and Vicki Sciolaro on CNN to chat about Donald Trump and the state of the 2016 presidential race but she got much more than she bargained for. Sciolaro, who is the Third Congressional District Chair of the Kansas Republican Party, came very much prepared to defend Trump against critics of his 2005 comments on grabbing women "by the p*ssy."
Notably, after insisting that most men talk about women in unsavory terms similar to ones used by Trump, she pivoted to Hillary Clinton and accused her of not caring about "murdering babies." (She was referring to abortion, which is the termination of a pregnancy.)
Baldwin interrupted, asking her to stay on the topic of Trump's old comments, which she said amounted to a promotion of sexual assault.
"He's not running to be the Pope!" said Sciolaro, who said that we live in a culture of "a bar and strip clubs on every corner." As "a strong, pro-life, Christian woman," she doesn't like that culture, but she stayed positive, exclaiming, "God can use anybody! He used the harlots! It's all about what God can do. God can do this. God can use this man!"
Baldwin looked surprised as Sciolaro continued her excited proclamations about Trump and God, but the most shocking moment of all came when she said this:
When Bill Clinton was President, my children came home from school and they had no idea it was actually called the Oval Office. They thought it was called the Oral Office!
Baldwin put her head in her hands. When she looked up again, she reminded the Trump supporter that Bill Clinton isn't running for President this time around.
"His wife is," said Sciolaro, "and they are a pair. The two are one."
Baldwin finished the segment by thanking both of her guests for coming, telling the Kansas RNC delegate that she represents a "chunk of the country … that feels this way," and then intoning, "I just… I gotta go. Welcome to 2016. That's all I'm gonna say."
[image via screengrab]
Have a tip we should know? tips@mediaite.com