Trump Just Rolled Out the Newest — and Perhaps Most Dangerous — Weapon to Take on Clinton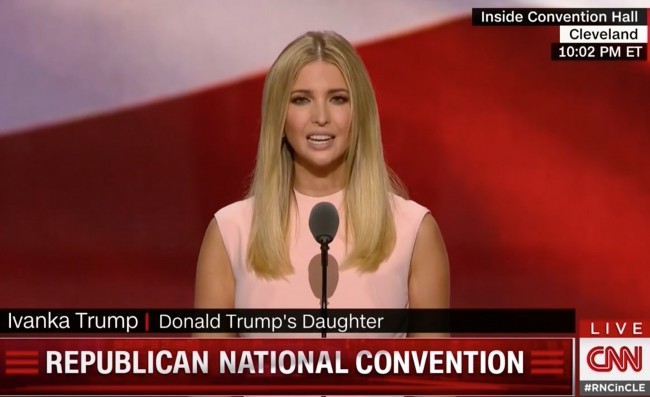 While the eyes of the political media world were waiting firmly for the man of the hour to take the stage (let's be honest, and also on his entrance), the Trump campaign rolled out its secret weapon in the general election fight against Hillary Clinton without many people realizing it:
Ivanka Trump.
Sure, we all know that the wildly popular daughter of the real estate mogul would be addressing the eager crowd Thursday night at the Quicken Loans Arena. The young Trump's appeal has been a draw on the campaign trail for a long time, with Ivanka sitting for a variety of interviews and speaking to her father's resiliency and personal temperament. This week's speeches at the Republican National Convention that came from the Trump children — all except 10-year-old Barron Trump spoke — were expected to highlight some element of personal charm and softness that were previously unknown. After all, that's widely the role of children surrogates in these situations.
But Donald Trump's campaign revealed — with the cameras rolling and millions watching at home — that the general election fight against the former Secretary of State will include a battle that Clinton will have to fight against daughter Ivanka, separate from issues like domestic security and America's place in the world that the father will continue to pounce on.
"He will fight for equal pay, equal work, and I will fight for this too, right alongside of him," Ivanka Trump told the crowd last night, a decidedly progressive tone on these issues than have never been vocalized by Republican candidates of the past. Issues that have been cornerstones of the #ImWithHer movement — paid family leave, gender pay equity, accessibility of childcare — were suddenly being delivered at a Republican event from the picture-perfect podium of Trump's eldest, most dynamic, and most popular child.
It was a glimpse, undoubtedly, into the multi-faceted attack that Trump plans to launch against the candidate who will be in six days' time our nation's first female nominee from any major political party.
If Hillary Clinton has ambitions of being the champion for a women's role in the workplace, she has met her match, at least from a campaigning point of view. Her oft-cited line, "If fighting for women's healthcare and paid family leave and equal pay is playing the woman card, then deal me in," is indicative of her fight on these issues. Sometimes, the Clintonian quips on the topic are slightly less scripted, but the message no less impactful: "[The] last time I checked, there's no discount for being a woman. Groceries don't cost us less."
And it's not just the optics of the 34-year-old who Trump calls, "what a beauty, that one" that speak to Ivanka's prowess on the issue. She's the mother of three herself with husband Jared Kushner, the youngest of which was just born this past March, a fact that she is just as quick to bring up as Clinton is about granddaughter Charlotte.
In my estimation, the struggle over "The Republican party's women problem," (as the Atlantic labeled it) just got significantly easier to fight with Ivanka Trump leading the charge on pay equity. For all the talk about diversified voices in this country and how various demographics will vote based on Trump's inflammatory rhetoric, it is still the white women's vote that will have a significant impact on the electorate. As The Atlantic cited in May, "[If the] electorate's composition followed the long-term patterns, Trump would then need to attract 58 percent of white women to reach a national majority—slightly more than the 56 percent that Romney won."
While his unfavorables among Hispanics and African Americans are disastrously bad, daughter Ivanka sounded like a champion of liberal causes Thursday night, a tone that can continue to earn the favor of moderates and undecided voters. The conservative crowd roared when she said, "This has long been the philosophy of the Trump Organization… Women are paid equally for the work that they do and when a woman becomes a mother she is supported, not shut out." This could spell disaster for a Clinton camp that has hoped to put these issues at the forefront of their effort.
On May 23, Clinton said:
Too many moms have to go back to work just days after their babies are born. … And too many dads and parents of adopted children don't get any paid leave at all. Neither do sons and daughters struggling to take care of their aging parents. None of this is fair to families.
Trump is betting the fortune of his campaign that Ivanka Trump can "defeat" Hillary Clinton when the two are out on the stump talking about the same damn thing. Clinton's pitch to women voters may be better defined at this point; her site includes a list of specifics on guaranteed medical and paid leave. But if Trump's daughter continues to stay on the message that she presented to the American people Thursday night…
"As President, my father will change the labor laws that were put in place at a time when women were up a significant portion of the workforce. He will focus on making quality child care affordable and accessible for all."
…leaving Trump to focus on Clinton's record in the State Department, the rise of the Islamic State, the security of our borders, James Comey's non-indictment indictment — and a litany of other issues — it's going to be a long summer for Clinton, who wakes up today realizing that the Trump force multiplied overnight.
—
J.D. Durkin (@jiveDurkey) is an editorial producer and columnist at Mediaite.
[image via screengrab]
This is an opinion piece. The views expressed in this article are those of just the author.