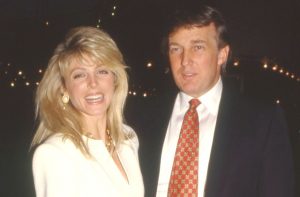 Anyone familiar with the New York gossip scene in the early 90s knows that Donald Trump infamously had an affair with Marla Maples, his second wife, while he was still married to first wife Ivana Trump. And because he's going after Bill Clinton for his past to attack Hillary Clinton, he was asked about this in a new interview out tonight.
Trump declared that Bill Clinton "brought shame onto the presidency, and Hillary Clinton was there defending him all along."
And yet, when The New York Times asked him about his own past, this is what The Donald said:
But when asked if he had ever cheated on his wives, Mr. Trump said: "No — I never discuss it. I never discuss it. It was never a problem."

Asked specifically about his affair with Ms. Maples when he was married to Ivana Trump, Mr. Trump said: "I don't talk about it. I wasn't president of the United States. I don't talk about it. When you think of the fact that he was impeached, the country was in turmoil, turmoil, absolute turmoil. He lied with Monica Lewinsky and paid a massive penalty."
And that wasn't all from Trump, for he insisted that he doesn't need to do any more prep for the next debate because his poor performance this week was not his fault, it was the fault of the microphone.
Why? Because, Trump says, he "spent 50 percent of my thought process" dealing with the mic. (Yes, that is a verbatim quote."
Oh, and just to top it off, Trump saying at the debate he would happily respect the outcome of the election was apparently a one-off:
Mr. Trump, aiming to unnerve Mrs. Clinton, even indicated that he was rethinking his statement at their last debate that he would "absolutely" support her if she won in November, saying: "We're going to have to see. We're going to see what happens. We're going to have to see."
You can read the full NYT interview here.
(P.S. Wasn't Trump trashing the Times literally last month?)
[image via Vicki L. Miller/Shutterstock]
— —
Follow Josh Feldman on Twitter: @feldmaniac
Have a tip we should know? tips@mediaite.com
Josh Feldman - Senior Editor