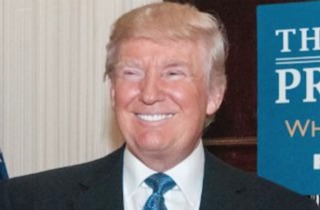 You know how this works: Donald Trump slams a person, Trump stays up to live-tweet his disdain during their speaking engagements, queen to E5.
In a rare address from the Oval Office, President Obama is scheduled to give a speech tonight to address the shooting in San Bernardino last week, as well as national defense in the wake of escalating acts of Islamic extremist violence.
Now, since Trump craves the spotlight, he announced on Twitter that he plans to repeat his actions from the first Democratic debate, by live-tweeting to make sure he's taken to task on security issues:
I will be live-tweeting President Obama's prime-time speech tonight starting at 7:50 P.M. (Eastern).Will he finally state the real problems?

— Donald J. Trump (@realDonaldTrump) December 6, 2015
We shall update with Trump's thoughts as the speech begins, starting at 8 P.M.
UPDATE: – 8:10 P.M. EST Trump's live-tweeting has begun. We shall add them as they come.
Hillary won't call out radical Islam! She will be soundly defeated.

— Donald J. Trump (@realDonaldTrump) December 7, 2015
The podium in the Oval Office looks odd! Not good, but the words will be the key.

— Donald J. Trump (@realDonaldTrump) December 7, 2015
Hope he won't spend too much time ripping apart the 2nd. Amendment!

— Donald J. Trump (@realDonaldTrump) December 7, 2015
"@10inchpolitics: @realDonaldTrump air strikes? Who's air strikes??"

— Donald J. Trump (@realDonaldTrump) December 7, 2015
"@JFK4701: @realDonaldTrump he is reading off the TelePrompTer." But that is O.K. in this case.

— Donald J. Trump (@realDonaldTrump) December 7, 2015
"@homefreeee: @realDonaldTrump He needs to stop all Visas not look at them!"

— Donald J. Trump (@realDonaldTrump) December 7, 2015
Is that all there is? We need a new President – FAST!

— Donald J. Trump (@realDonaldTrump) December 7, 2015
Wish Obama would say ISIS, like almost everyone else, rather than ISIL.

— Donald J. Trump (@realDonaldTrump) December 7, 2015
Should have gone after the oil years ago (like I have been saying).

— Donald J. Trump (@realDonaldTrump) December 7, 2015
Well, Obama refused to say (he just can't say it) that we are at WAR with RADICAL ISLAMIST TERRORISTS.

— Donald J. Trump (@realDonaldTrump) December 7, 2015
[image via shutterstock]
Have a tip we should know? [email protected]