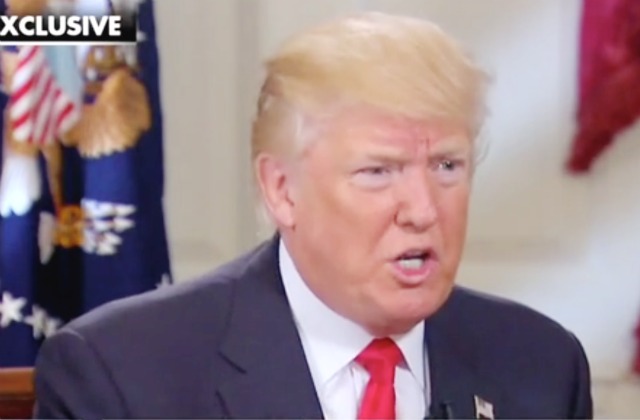 A new report says that President Trump has become so tired of all the "fake news" dragging down his presidency that receives a twice-daily folder full of positive news pieces about himself.
An article from Vice says that when they were still part of the White House, Reince Priebus and Sean Spicer competed with each other for the chance to give Trump a 20-25 page folder that was filled with good feedback about the job he's doing. This so-called "Propaganda Document," according to multiple sources, is filled with "screenshots of positive cable news chyrons, admiring tweets, transcripts of fawning TV interviews, praise-filled news stories, and sometimes just pictures of Trump on TV looking powerful."
The report says the documents are drafted in the Republican National Committee's "war room," where staffers start every morning by combing through the media to find the best samples they can add to the folder. Once the White House Communications Office gets their list of positive pieces, they send some of them out to journalists while saving the best ones for Trump.
"Maybe it's good for the country that the president is in a good mood in the morning," said one former RNC official.
Sources told Vice that Priebus and Spicer fought for delivery privilege in the hopes of staying in Trump's good graces. One official described the situation as "self-preservation."
Spicer is refuting the report, having told Vice "while I won't comment on materials we share with the president, this is not accurate on several levels."
[Image via screengrab]
— —
>> Follow Ken Meyer (@KenMeyer91) on Twitter
Have a tip we should know? tips@mediaite.com