Trump Reportedly Said 'You People Are Doing an Amazing Job' In Meeting With HBCU Leaders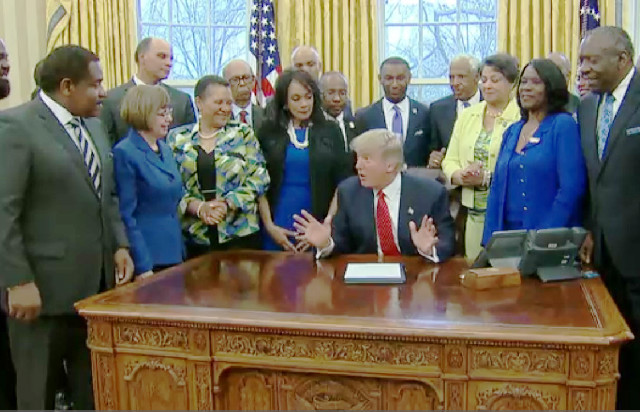 According to BuzzFeed, six different people who were in the Oval Office when President Donald Trump met with the leaders of Historically Black Colleges and Universities (HBCUs) claimed the president used the term "you people" while speaking to them.
"You people are doing an amazing job," four people in the room recalled Trump saying. Two of them said Trump repeated the complimentary refrain three times. They all said the comments raised eyebrows, and it was discussed afterward even as others just said it was Trump being Trump.

It was "very insensitive," one of the college presidents said, but added that while the phrase irked him and his colleagues, it also struck him as "very Trump-ish."
One college president told BuzzFeed that while he's heard a "lot worse than that," he was "waiting on him to say something worse."
Another college president stated that he didn't enjoy the visit all that much because they were rushed in and out of the meeting rather quickly, with Trump mostly just commenting on how crowded the Oval Office was.
This is just the latest unflattering story to come from the meeting. Following the meeting, a photo of White House counselor Kellyanne Conway kneeling on a couch gained a lot of attention online, much of it negative. Also, Education Secretary Betsy DeVos released a statement praising HBCUs as "pioneers in school choice," which was seen by many as naive and some as endorsing segregation.
[image via screengrab]
—
Follow Justin Baragona on Twitter: @justinbaragona
Have a tip we should know? [email protected]