Trump Responds to Cruz: 'More Unhinged' as the 'Stress of Losing' Gets to Him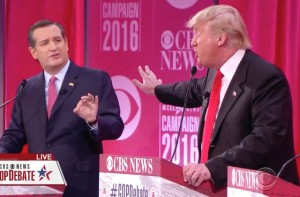 Donald Trump today pushed a conspiracy theory about Ted Cruz's dad being with Lee Harvey Oswald, something that Cruz got incensed about, which naturally makes Cruz the insane one.
At least, that's how Trump sees it.
After Trump pushed that insane National Enquirer conspiracy, Cruz––for lack of a better word––went apeshit. He declared, "Donald Trump is a serial philanderer and he boasts about it… Do you want to spend the next five years with your kids bragging about infidelity? Now what does he do? He does the same projection, just like a pathological liar. He accuses everyone about lying."
And so Trump released a statement today saying that it's Cruz––and NOT the guy mainstreaming conspiracy theories about his rivals––who's the unhinged one:
Ted Cruz is a desperate candidate trying to save his failing campaign. It is no surprise he has resorted to his usual tactics of over-the-top rhetoric that nobody believes. Over the last week, I have watched Lyin' Ted become more and more unhinged as he is unable to react under the pressure and stress of losing, in all cases by landslides, the last six primary elections — in fact, coming in last place in all but one of them. Today's ridiculous outburst only proves what I have been saying for a long time, that Ted Cruz does not have the temperament to be President of the United States.
Well, Indiana should be fun tonight, at least.
[image via screengrab]
— —
Follow Josh Feldman on Twitter: @feldmaniac
Have a tip we should know? tips@mediaite.com
Josh Feldman - Senior Editor