Trump Reveals the Aha Moment He Thought Of — and Trademarked — 'Make America Great Again'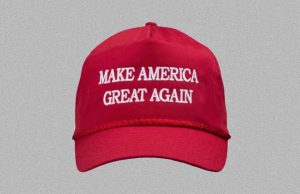 The long shot candidacy of Donald Trump to top the ranks of the Republican elite — and eventually, the world — began with a simple catchy phrase: "Make America Great Again," appropriately emblazoned on hats, shirts, bumper stickers, and any other kitchy items you could slap a price tag onto.
And now, in an interview with The Washington Post, the President-elect of the United States reveals the genesis behind the phrase that took the nation by storm.
Karem Tumulty reported Wednesday that Trump first thought of the phrase the day after Mitt Romney lost in his bid for the White House against the incumbent President Barack Obama. While the GOP was in disarray, writes Tumulty, "[O]n the 26th floor of a golden Manhattan tower that bears his name, Trump was coming to the conclusion that his own moment was at hand."
He considered other branding options too, of course: We Will Make America Great Again. Make America Great. Eventually, he decided on the winner and recounted the exact moment he and his team sprung into action.
"I said, 'That is so good.' I wrote it down," Trump recalled in an interview. "I went to my lawyers. I have a lot of lawyers in-house. We have many lawyers. I have got guys that handle this stuff. I said, 'See if you can have this registered and trademarked.' "
Within a week Trump asked for exclusive rights to "Make America Great Again" through an application through the U.S. Patent and Trademark Office for the use of "political action committee services, namely, promoting public awareness of political issues and fundraising in the field of politics."
He told Tumulty, "I felt that jobs were hurting. I looked at the many types of illness our country had, and whether it's at the border, whether it's security, whether it's law and order or lack of law and order. Then, of course, you get to trade, and I said to myself, 'What would be good?' I was sitting at my desk, where I am right now, and I said, 'Make America Great Again.'"
When Trump was faced with the reality that Ronald Reagan and George H.W. Bush had used a similar phrase ("Let's Make America Great Again") in 1980, the business mogul turned Commander in Chief admitted that they originalists of the message did not trademark it. "I think I'm somebody that understands marketing," he told Tumulty.
And in typically hawkish style, Trump and his legal team even went as far as to send out cease and desist letters to his Republican cohorts who were regularly sneaking the message into their campaign speeches. The trademark officially went through one month after Trump announced his candidacy.
"I didn't know it was going to catch on like it did. It's been amazing," Trump told The Washington Post. "The hat, I guess, is the biggest symbol, wouldn't you say?"
—
Have a tip we should know? tips@mediaite.com