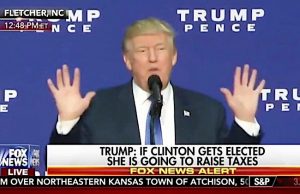 Trump told a Cincinnati radio host Tuesday morning that he had "no interest in Trump TV," a widely speculated post-election network launch the GOP candidate might pursue should he lose on Nov. 8.
In an interview reported by CNN's KFile, Trump told Newsradio 700 WLW's Scott Sloan:
No, I have no interest in Trump TV. I hear it all over the place. I have a tremendous fan base, we have a tremendous base. We have the most incredible people, but I just don't have any interest in that. I have one interest, that's on November 8.
On the night of the third and final presidential debate Wednesday, Trump's campaign produced almost four hours of Facebook Live content consisting of commentary from Trump campaign staffers, surrogates, and supporters. Many surmised that broadcast acted as a soft launch for a potential Trump TV network.
The campaign repeated the experiment Monday night, programming over an hour of coverage on Facebook Live hosted by Trump advisors Boris Epshteyn and Cliff Sims. Monday's stream averaged 50-60,000 viewers, which CNN's Brian Stelter noted was high for Facebook Live, but "very low by TV standards."
The campaign has been using the hashtag #TrumpTV to promote its live streaming videos. On the air, Sims referred to the broadcast as "Trump Tower Live."
Trump told Sloan that he was not interested in developing the project beyond the election, as he was confident that he would win the presidency and could devote his attention to "making America great again."
—
Audio courtesy of CNN's KFile
Sam Reisman (@thericeman) is a staff editor at Mediaite.
Have a tip we should know? tips@mediaite.com