Trump Says He Would Stop Buying Oil From Saudi Arabia If They Don't Fight ISIS and More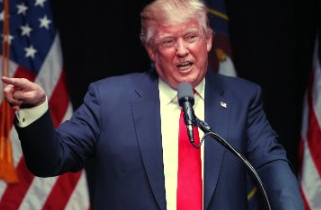 American historians will definitely remember this as the week Donald Trump got tired of the constant criticism of his lack of foreign policy knowledge. The last straw came when he responded to questions about the identity of his consultants with, "I'm speaking with myself." He eventually released a list of his foreign policy advisers and it still wasn't good enough.
He agreed to a long-winded interview with The New York Times to clear up any confusion over this foreign policy plans. (Note that he has insulted the publication repeatedly.)
He repeated his standard line about Saddam Hussein being great at killing terrorists and Iraq being the Harvard of terrorism, then said, "By the way, bad guy, just so you know, officially, I want to say that, bad guy, but it was a lot better of situation than we have right now. And he did not knock down the World Trade Center, O.K.? So officially speaking, he did not, Iraq did not knock down the World Trade center."
Other highlights include the following.
On George W. Bush:
TRUMP: Well he did the right thing, David, he did the right thing. He went in, he knocked the hell out of Iraq and then he let it go, O.K.? He didn't go in. Now I don't know was that [Norman] Schwarzkopf, was that, was that —

DAVID E. SANGER: It was George W. Bush himself.

TRUMP: Or maybe it was him, but he didn't go in, he didn't get into the quicksand, right? He didn't get into the quicksand and I mean, history will show that he was right.
On spying on American allies:
TRUMP: [I]t's not so much with [Angela] Merkel, but it's certainly with other countries. You know, that really, where there's, where there's a different kind of relationship, and a much worse relationship than with Germany. So, you know there's so, there's such predictability with our country. We go and we send 50 soldiers over to the Middle East and President [Barack] Obama gets up and announces that we're sending 50 soldiers to the Middle East. Fifty very special soldiers. And they now have a target on their back, and everything we do, we announce, instead of winning, and announcing when it's all over. There's such, total predictability of this country, and it's one of the reasons we do so poorly. You know, I'd rather not say that. I would like to see what they're doing. Because you know, many countries, I can't say Germany, but many countries are spying on us. I think that was a great disservice done by Edward Snowden. That I can tell you.
On no longer buying oil from Saudi Arabia until they put boots on the ground to defeat ISIS:
MAGGIE HABERMAN:

Mr. Trump, you have talked about your plans to defeat ISIS, and how you would approach it. Would you be willing to stop buying oil from the Saudis if they're unwilling to go in and help?

SANGER: On the ground?

TRUMP: Oh yeah, sure. I would do that.
Finally, on climate change and using nuclear weapons against enemies first:
HABERMAN: Would you, you were just talking about the nuclear world we live in, and you've said many times, and I've heard you say it throughout the campaign, that you want the U.S. to be more unpredictable. Would you be willing to have the U.S. be the first to use nuclear weapons in a confrontation with adversaries?

TRUMP: An absolute last step. I think it's the biggest, I personally think it's the biggest problem the world has, nuclear capability. I think it's the single biggest problem. When people talk global warming, I say the global warming that we have to be careful of is the nuclear global warming.
For the rest of the interview, check out NYT.
[image via screengrab]
For more from Lindsey, follow her on Twitter.
This is an opinion piece. The views expressed in this article are those of just the author.