Trump Says He Wouldn't Automatically Rush to Aid NATO Allies Threatened by Russia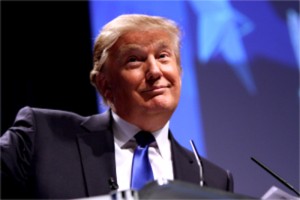 Donald Trump gave a new interview to The New York Times today in which he said a couple of pretty unbelievable things about his outlook on the rest of the world.
First, Trump completely rejected the idea that the United States should "lecture" other nations like Turkey about civil liberties "when people are shooting policemen in cold blood?"
Yes, Trump is arguing that we need to "fix our own mess" before the United States can be a leader in the world to other nations about human rights abuses.
And then there's the fact that, despite longstanding agreements, he wouldn't automatically take action if a NATO member is threatened by Russia:
For example, asked about Russia's threatening activities that have unnerved the small Baltic States that are the most recent entrants into NATO, Mr. Trump said that if Russia attacked them, he would decide whether to come to their aid only after reviewing whether those nations "have fulfilled their obligations to us."

While Mr. Trump has spoken approvingly of President Vladimir V. Putin of Russia, he insisted that he was no admirer of Mr. Putin's style.
And then Trump got around to Turkey. The unsuccessful coup was resolved with many of the soldiers leading it arrested and President Recep Tayyip Erdogan saying that they will pay for their "treason."
Trump did not offer much comment on the coup, but he actually praised the authoritarian Erdogan for his crackdown:
Mr. Trump had nothing but praise for President Recep Tayyip Erdogan, the country's increasingly authoritarian but democratically elected leader. "I give great credit to him for being able to turn that around," Mr. Trump said of the coup attempt on Friday night. "Some people say that it was staged, you know that," he said. "I don't think so."

Asked if Mr. Erdogan was exploiting the coup attempt to purge his political enemies, Mr. Trump did not call for the Turkish leader to observe the rule of law, or Western standards of justice. "When the world sees how bad the United States is and we start talking about civil liberties, I don't think we are a very good messenger," he said.
When asked how he could convince Erdogan to do more to fight ISIS, Trump literally just said the word "Meetings."
You can read the full interview here.
[image via Gage Skidmore]
— —
Follow Josh Feldman on Twitter: @feldmaniac
Have a tip we should know? tips@mediaite.com
Josh Feldman - Senior Editor