Trump Says Pence Was 'Harassed' by Hamilton Cast and Theater Should be 'Safe and Special Place'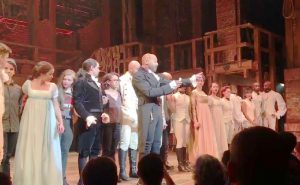 Following Vice President-elect Mike Pence being booed while attending a performance of Hamilton, and the cast addressing Pence regarding the concerns over discrimination by the Trump administration, President-elect Donald Trump took to Twitter to complain about the cast's actions.
Claiming that Pence was harassed and that the cast was very rude to him, Trump sent the following tweets this morning:
Our wonderful future V.P. Mike Pence was harassed last night at the theater by the cast of Hamilton, cameras blazing.This should not happen!

— Donald J. Trump (@realDonaldTrump) November 19, 2016
The Theater must always be a safe and special place.The cast of Hamilton was very rude last night to a very good man, Mike Pence. Apologize!

— Donald J. Trump (@realDonaldTrump) November 19, 2016
Now, for the record, star Brandon Dixon told the audience not to boo when he gave his message to Pence at the end of the show. He also thanked the VP-elect for attending and told him that many people were anxious about the incoming administration.
Tonight, VP-Elect Mike Pence attended #HamiltonBway. After the show, @BrandonVDixon delivered the following statement on behalf of the show. pic.twitter.com/Jsg9Q1pMZs

— Hamilton (@HamiltonMusical) November 19, 2016
"We sir, we are the diverse America who are alarmed and anxious that your new administration will not protect us, our planet, our children, our parents, or defend us and uphold our inalienable rights, sir," the Hamilton actor stated. "But we truly hope that this show has inspired you to uphold our American values and to work on behalf of all of us."
After news of the booing and the cast's message to Pence spread, CNN's Don Lemon held a panel discussion on it. It was noted that the actor currently portraying Alexander Hamilton is gay and HIV-positive, leading Lemon to mention that Pence is no friend to the gay community.
[image via screengrab]
–
Follow Justin Baragona on Twitter: @justinbaragona
Have a tip we should know? tips@mediaite.com