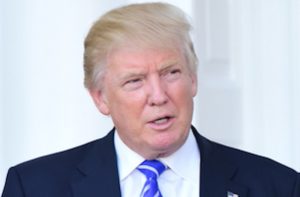 President-Elect Donald Trump is chiding House Republicans and saying they have bigger things to work on than taking power away from the Office of Congressional Ethics.
On Monday, GOP representatives passed an amendment that would strip the ethics watchdog of its capabilities to launch independent probes and make public statements about their findings. Today, after tweeting about his discontent with the Affordable Care Act and General Motors, Trump decided to air his disapproval of the move.
With all that Congress has to work on, do they really have to make the weakening of the Independent Ethics Watchdog, as unfair as it

— Donald J. Trump (@realDonaldTrump) January 3, 2017
……..may be, their number one act and priority. Focus on tax reform, healthcare and so many other things of far greater importance! #DTS

— Donald J. Trump (@realDonaldTrump) January 3, 2017
During a Tuesday morning press junket, Trump senior advisor Kellyanne Conway seemed defensive about yesterday's vote. Conway said she didn't talked with Trump about it ahead of time, but she argued on MSNBC's Morning Joe that the vote could enhance transparency when dealing with congressional ethics concerns.
Kellyanne Conway told the Morning Joe panel that she hasn't talked to Donald Trump about the vote: https://t.co/atJeCyUU5H

— MSNBC (@MSNBC) January 3, 2017
The vote has drawn from criticism from other conservative figures, seeing as Joe Scarborough called it a "horrific misstep" and Republican leaders discouraged the vote before it took place last night.
UPDATE: 11:27 a.m. EST Trump's future press secretary Sean Spicer talked about the vote with reporters, and he elaborated on Trump's tweets.
Trump spox Sean Spicer clarifies Trump is annoyed by the timing of GOP gutting ethics watchdog, not the gutting itself. Via pool: pic.twitter.com/DjAsoW7jEv

— Jennifer Bendery (@jbendery) January 3, 2017
UPDATE: 12:32 p.m. EST Shortly after Trump's tweets, the House GOP decided to Follow Ken Meyer (@KenMeyer91) on Twitter
Have a tip we should know? tips@mediaite.com