Trump Snaps at Media Amid Nordstrom Feud: They 'Abused' Ivanka, Treated Her 'So Badly'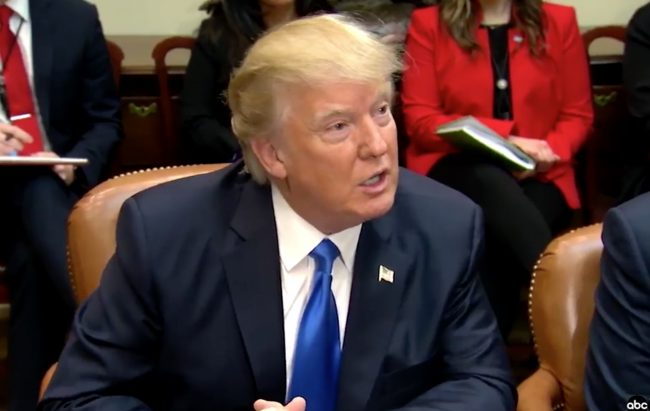 President Trump is using his weekend to hold "golf diplomacy" with Japanese Prime Minister Shinzo Abe, but apparently he found some time to snipe at the media along the way.
Over the past week, Trump has been ripping Nordstrom over their decision to no longer sell Ivanka Trump's clothes due to a fiscal year of falling sales. Trump's feud with the retailer prompted media intrigue and conflict of interest concerns, particularly after his adviser Kellyanne Conway used a TV interview to openly encourage viewers to buy the Trump daughter's merchandise.
On Saturday, Trump issued a complimentary tweet to Ivanka for keeping her head up despite being "abused and treated so badly by the media":
I am so proud of my daughter Ivanka. To be abused and treated so badly by the media, and to still hold her head so high, is truly wonderful!

— Donald J. Trump (@realDonaldTrump) February 11, 2017
Soon after Trump's tweet went up, it caught the interest of political and media Twitter. One common reaction was that the media's scrutiny had more to do Trump's criticism of a business decision, not so much about diminishing Ivanka:
Not sure what POTUS is referencing. Media reported — straightforwardly — that stores dropped Ivanka's product line. That's not media abuse. https://t.co/LSc1xkXVEy

— Philip Rucker (@PhilipRucker) February 11, 2017
Is this about her shitty products? https://t.co/3Sm4hIYTBL

— Keith Olbermann (@KeithOlbermann) February 11, 2017
POTUS used his power—attacked a store b/c it dropped Ivanka's fashion line—Trump business

Dropped b/c of low sales—media correctly reported https://t.co/2HbSjEwDAS

— Bradd Jaffy (@BraddJaffy) February 11, 2017
Serious q: I have seen generally only neutral-to-positive coverage of @IvankaTrump — to what is he referring? https://t.co/JRw3092hUJ

— Jake Tapper (@jaketapper) February 11, 2017
Serious answer: it makes more sense to presume bad faith when he speaks than the opposite. He has repeatedly admitted to strategic lying. https://t.co/Yz015d0Qtw

— Conor Friedersdorf (@conor64) February 11, 2017
WSJ posted story (guessing) based on Nordstrom sales data showing major declines in her brand before decision to end carrying it. https://t.co/GRHL5BUkVy

— Eric Lipton (@EricLiptonNYT) February 11, 2017
The Trump Administration has argued in recent days that Nordstrom's decision was politically based, and that critics are trying to get to the president by punishing his daughter.
[Image via screengrab]
— —
>> Follow Ken Meyer (@KenMeyer91) on Twitter
Have a tip we should know? tips@mediaite.com