Trump: Investigation Into Family Finances Unrelated to Russia Would Cross A Red Line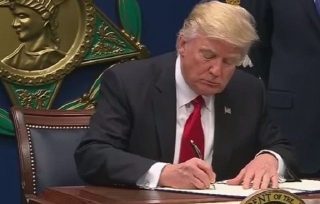 The New York Times published an exclusive report that came from a 50 minute interview that President Donald Trump provided to Maggie Haberman, Peter Baker and Michael Schmidt. The wide-ranging interview covered many topics, but among them was what some might see as a threat towards Special Counsel Robert Mueller's investigation into Russian interference in the 2016 General Election.
Amid many suspicions that the real story behind Trump and Russia is financial support and possible laundering, Trump  apparently "warned that investigators would cross a red line if they delve into Trump family finances unrelated to Russia," according to the report:
Mr. Trump was also critical of Mr. Mueller, a longtime former F.B.I. director, reprising some of his past complaints that lawyers in his office contributed money to Mrs. Clinton's campaign. He noted that he actually interviewed Mr. Mueller to replace Mr. Comey just before his  appointment as special counsel.

"He was up here and he wanted the job," Mr. Trump said. After he was named special counsel, "I said, 'What the hell is this all about?' Talk about conflicts. But he was interviewing for the job. There were many other conflicts that I haven't said, but I will at some point."

Asked if Mr. Mueller's investigation would cross a red line if it expands to look at his family's finances beyond any relationship to Russia, Mr. Trump said, "I would say yes." He would not say what he would do about it. "I think that's a violation. Look, this is about Russia."
Reminder that President Trump has long kept his family finances remarkably secret and his unwillingness to reveal his tax returns not only broke decades-long tradition, but also raised eyebrows of his critics.
Some have wondered about the long-term viability of Mueller's career as Special Counsel, especially since Trump was willing to fire FBI Director James Comey, in part to because he saw Russia as a "made up story." It seems that Trump might be sending a message to Special Counsel Mueller that, if his investigation looks into Trump's personal finances, he might be fired for, a the NY Times reports, "crossing a red line."
Have a tip we should know? tips@mediaite.com