Trump Tells Reuters There's a Chance of a 'Major, Major Conflict With North Korea'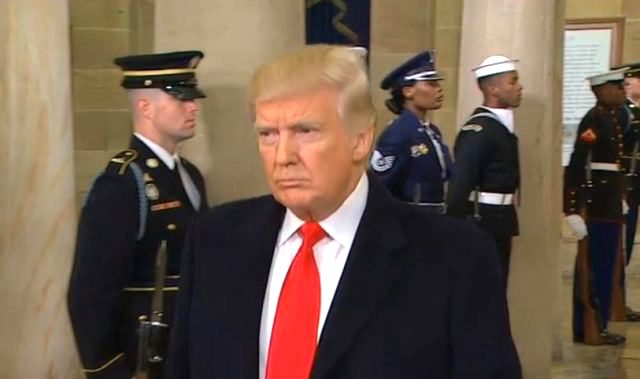 One day after the highly unusual briefing in which all 100 Senators ventured to the White House for an update on North Korea, President Donald Trump is making his most dire public comments to date on the standoff.
Speaking with Reuters to mark the conclusion of his first 100 days in office, Trump painted a bleak picture of the escalating situation.
"There is a chance that we could end up having a major, major conflict with North Korea. Absolutely," Trump said.
He added, "We'd love to solve things diplomatically but it's very difficult."
The comments come a day after the Senate briefing which was mocked by a number of democratic Senators; including Tammy Duckworth of Illinois.
"I seriously felt like I could have gotten all that information by reading a newspaper," Duckworth said on CNN Wednesday. "I did not see any new information coming out of that briefing at all. It felt more like a dog and pony show to me than anything else."
But whether or not key information was disclosed in that briefing, Trump's Thursday comments make it clear that he believes the situation is becoming more serious.
In the interview with Reuters, Trump offered an assessment of North Korea's leader, Kim Jong Un.
He's 27 years old. His father dies, took over a regime. So say what you want but that is not easy, especially at that age.

I'm not giving him credit or not giving him credit, I'm just saying that's a very hard thing to do.
But Trump punted on the question of the North Korea leader's mental fitness.
"As to whether or not he's rational, I have no opinion on it," Trump said. "I hope he's rational."
[image via screengrab]
——
Follow Joe DePaolo (@joe_depaolo) on Twitter
Have a tip we should know? tips@mediaite.com
Joe DePaolo - Senior Editor