Trump to Announce His $9 Billion in Assets… and Maybe That He's Running for President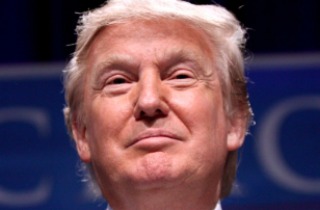 Donald Trump has been keeping everyone in suspense recently about whether he'll be running again for president in 2016. Trump has been doing his best to stay relevant: from telling Greta Van Susteran about his secret anti-ISIS strategy to proposing to build a wall across the Mexican border and sending Mexico the bill.
Trump has now promised a "major announcement" regarding his campaign entry tomorrow, which he will release alongside a second disclosure about something that everyone already knew: Donald Trump has a lot of money.
While it might not be a surprise that the reality TV star/real estate mogul has amassed a fortune in his career, it has been reported that Trump will release a two-page balance sheet comparing his asset valuations to his debt, during a political rally at Trump Tower in New York. Trump promised that he was "going to surprise a lot of people in 2016," and a source from Business Insider confirmed that Trump will correct an injustice from Forbes magazine – by proving that his net worth is $9 Billion, compared to their estimate of $4.1 billion.
"Everybody feels I'm doing this just to have fun or because it's good for the brand," Trump told The Washington Post in February. "I'm not doing this for enjoyment. I'm doing this because the country is in serious trouble."
It has been speculated that if Trump decides to run, his announcement will focus on his fortune, business, and his status as an outsider to congressional politics. Trump's document will be set to demonstrate his financial success, as well as to prove to skeptics that he is, indeed, the richest candidate the GOP has seen so far.
[h/t Washington Post]
[Image via Screengrab]
— —
>> Follow Ken Meyer (@KenMeyer91) on Twitter
Have a tip we should know? tips@mediaite.com