Trump Trolls as Democrats Consider Reshuffling Leadership: 'Please Let Cryin' Chuck Stay!'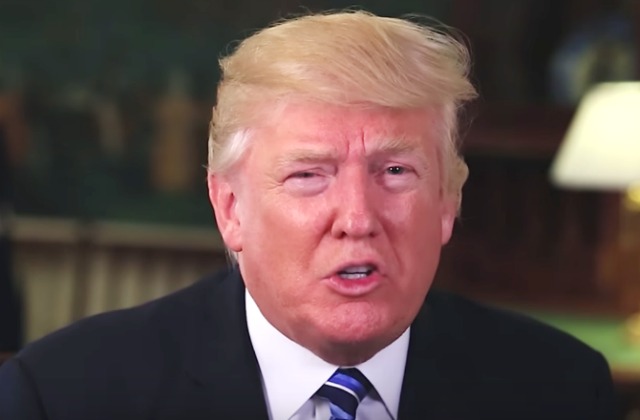 President Trump is still tweeting away this morning, and he has decided to taunt Chuck Schumer and Nancy Pelosi about latter's future as a congressional leader.
Mediaite previously noted Trump's suggestion that it was Barack Obama's fault for not stopping Russia from interfering with the 2016 election. It is now evident that Trump wasn't done there:
…Why did Democratic National Committee turn down the DHS offer to protect against hacks (long prior to election). It's all a big Dem HOAX!

— Donald J. Trump (@realDonaldTrump) June 22, 2017
…Why did the DNC REFUSE to turn over its Server to the FBI, and still hasn't? It's all a big Dem scam and excuse for losing the election!

— Donald J. Trump (@realDonaldTrump) June 22, 2017
I certainly hope the Democrats do not force Nancy P out. That would be very bad for the Republican Party – and please let Cryin' Chuck stay!

— Donald J. Trump (@realDonaldTrump) June 22, 2017
In the first two tweets here, Trump again referred to Former Homeland Security Secretary Jeh Johnson's testimony before the House Intelligence Committee. Johnson talked about how he warned the Democratic National Committee that their system was compromised, yet they declined his offer to help protect themselves from cyberattacks.
The third tweet addresses how several Democrats are blaming Pelosi's House leadership for Jon Ossoff's special election defeat. The current debate is concerned with whether Pelosi is being made into a scapegoat, or if she's the person most responsible for the Democrats' political setbacks.
It would seem Trump thinks the latter is true, and he would rather have Pelosi stick around because of it.
Also, if you were wondering, the answer to your question is yes. Fox & Friends did discuss Pelosi's future this morning:
"I hope [Democrats] keep Nancy for 10 more years!" –@newtgingrich pic.twitter.com/bUFMRDLgWj

— FOX & friends (@foxandfriends) June 22, 2017
[Image via screengrab]
— —
>> Follow Ken Meyer (@KenMeyer91) on Twitter
Have a tip we should know? [email protected]