Trump: When ISIS Sacks the Vatican, Pope Will Understand Why He Needs President Trump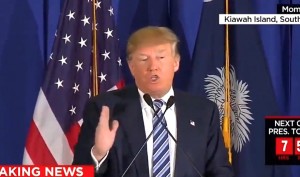 Donald Trump hit back at Pope Francis Thursday for his comments that the mogul is "not a Christian" and that voters should not elect him, saying that "if and when the Vatican is attacked by ISIS, I can promise you that the pope will have only wished and prayed that Donald Trump would have been the president."
Under a President Trump, "this would have not have happened" Trump said, "this" referring to the hypothetical sacking of the Vatican.
Trump rattled off his hastily written rebuke to the pontiff at a rally in South Carolina, shortly after hearing Francis's remarks. He called ISIS's conquest of the Vatican the group's "primary goal," and said its destruction would be their "ultimate trophy."
Trump posted his remarks to his Facebook page:
Trump concluded his statement by calling the pope's questioning of his faith "disgraceful." He added:
For a religious leader to question a person's faith is disgraceful. I am proud to be a Christian and as President I will not allow Christianity to be consistently attacked and weakened, unlike what is happening now, with our current President. No leader, especially a religious leader, should have the right to question another man's religion or faith. They are using the Pope as a pawn and they should be ashamed of themselves for doing so, especially when so many lives are involved and when illegal immigration is so rampant.
[image via screengrab]
Have a tip we should know? tips@mediaite.com