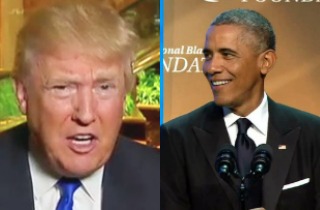 Donald Trump posted a statement from his campaign to Instagram on Wednesday to comment on a town hall event where President "Barrack Obama" (his misspelling) referred to some illegal immigrants as "gang-bangers."
While Trump plugged his "Make America Great Again" campaign and said that this was one of his rare agreements with the president, he said it was hypocritical that the liberal media's not generating public outcry against Obama when his statements were "far less controversial."
Obama's statements came off a question about the Affordable Care Act, where he went on to say that policy reform was necessary for resource distribution and aiding law-abiding immigrants on the path to becoming citizens:
We should not be encouraging illegal immigration. What we should be doing is setting up a smart, legal immigration system that doesn't separate families, but does focus on making sure that people who are dangerous, people who are gang-bangers or criminals — that we're deporting them as quickly as possible.
Ever since he announced his candidacy for president, Trump has had to repeatedly defend himself and deal with business losses after describing all illegal Mexican immigrants as rapists and criminals. Trump did not acknowledge, however, that whereas his statements were a sweeping generalization that he has repeatedly defended, Obama was discussing the need for immigration policy reform that could identify criminals and deal with illegal immigrants in a "smart" way.
Trump's statement today argued that the 2016 candidate's position was merely him expressing an opinion on an issue, and denied that he was racist. He then wrote about his hopes that Obama receives the same treatment he has been getting from the media:
It is our expectation that the media responds to President Obama with the same vitriolic manor for his statement made earlier today. Where is the outcry from the liberal mainstream media demanding an apology from the president?
Just for reference, here's Trump's original comments on the subject:
"When Mexico sends its people, they're not sending their best… They're sending people that have lots of problems, and they're bringing those problems with us. They're bringing drugs. They're bringing crime. They're rapists. And some, I assume, are good people."
You can watch Obama's comments here, via The Daily Caller:
[h/t Daily Caller]
[Images via Screengrab]
— —
>> Follow Ken Meyer (@KenMeyer91) on Twitter
Have a tip we should know? tips@mediaite.com