Trump, Who's Revoked Press Access a Bunch of Times, Says He Wouldn't Do That as President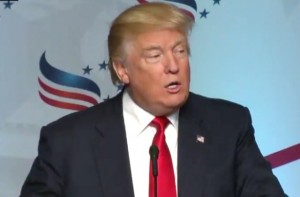 Donald Trump revoked the press access of the Washington Post this week, but that was not the first time it's happened. Trump has done the same for the Des Moines Register, BuzzFeed, Politico, and a bunch of other news outlets.
So, naturally, you would assume this is the kind of thing Trump would do as president. But in a phone interview with CNN's Brian Stelter, Trump tonight said he wouldn't.
Wait, what?
"In my case, I'm a person running for office. I rent these large arenas… so I have an option" to deny access to members of the media, Trump said. "When I'm representing the United States, I wouldn't do that. But I would let people know if somebody's untruthful."
Yes, Trump seemed to make the case that he would be kinder to the press when he is leader of the free world… when the media would no doubt be tougher on him. (And then there was the fact he specifically threatened to loosen the libel laws as president.)
Trump insisted all he wants is fair treatment from the press, saying, "By the way, if I have a bad story, that's okay, if it's true. If i deserve it. You know, I'll deserve bad stories on occasion." He did not give specific examples of such.
What we do know is exactly where he draws the line:
"When people write false stories; when they write lies; when they write stories that have no bearing on the truth; when they say things that are so wrong, and they know they're wrong, and they tell me that they know they're wrong, but they refuse to change them, then I say, they're not going to come anymore."
[image via screengrab]
— —
Follow Josh Feldman on Twitter: @feldmaniac
Have a tip we should know? tips@mediaite.com
Josh Feldman - Senior Editor