Trump's Army Secretary Nominee Allegedly Punched Out a Concessions Worker at a Horse Auction Last Year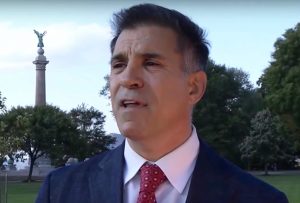 President-elect Donald Trump's nominee for Secretary of the Army is alleged to have engaged in some hand-to-hand combat at a horse auction last year.
The New York Times reports that Vincent Viola — the owner of the NHL's Florida Panthers and Trump's pick for Secretary of the Army — was alleged to have punched a concessions worker at a horse auction in Saratoga Springs, NY on Aug. 11 of last year.
According to the police report obtained by the Times, an officer responded to a verbal altercation between Viola and the unidentified man, who worked for a local catering company. When the officer arrived, he saw the concessions worker with a "swollen, bloody lip," which he said was caused by a punch from Viola.
Viola, according to the police report, had been told by his wife Theresa Viola that she'd been pushed by the worker earlier in the evening after she'd tried to get water for a woman who fainted. Theresa pointed out the worker to Vincent, who confronted him. The argument escalated, at which point, it is alleged that Viola punched the concession worker.
In a statement to the Times, a spokesman for Viola did not deny that Viola threw the punch. "Mr. Viola loves his wife and regrets the incident," the statement said.
"Mr. Viola will always stand up and defend his wife, and in this case there was a simple disagreement with the matter being dropped and no charges were filed," the spokesman said in a follow-up statement. "Mr. Viola notified the Transition Team of the disagreement early on in the process and we consider this matter closed."
Viola's confirmation hearing has not yet been scheduled.
[image via screengrab]
–
Follow Joe DePaolo (@joe_depaolo) on Twitter
Have a tip we should know? tips@mediaite.com
Joe DePaolo - Senior Editor