Trump's Lewd Comments on Audio Could be Even More Problematic For NBC's Billy Bush
If all you were to watch about the latest Donald Trump scandal involving his lewd comments about women were this segment from MSNBC, you might miss a key part of the story.
Here's the audio: Trump lewd comments about women caught on tape, @KatyTurNBC reports. More tonight @NBCNightlyNews. https://t.co/kJejRixUit

— Bradd Jaffy (@BraddJaffy) October 7, 2016
There is NBC's Katy Tur calling the person Trump was talking to, Billy Bush, "Access Hollywood's Billy Bush." She isn't wrong, of course: Bush worked for AH in 2005 when the recorded conversation took place.
Where does he work now, though?
NBC's Today Show, that's where. He's been a co-host of the 9 am hour on the popular early-morning show since May of this year.
While NBC and MSNBC are being careful not to link Bush's former comments to their company too often during this coverage, executives are going to have big decisions to make in the coming days. Sure, this may have an effect on Trump and his campaign, but his disparaging comments about women are nothing new. Bush, on the other hand, is on an early-morning show –theoretically a news show — with a massive female audience. That he backed up Trump's assertion that famous men "can do anything" to women — with "phony tits" and without — including "[grabbing] them by the pussy," will matter to those viewers and so, it matters to executives.
It isn't as though Bush's pre-NBC record was squeaky clean, of course. Back in 2011, he did say on Access Hollywood that Lindsay Lohan has the "best boobs," so the fact that he agreed with Trump that stars really can do "whatever [they] want" with women isn't that shocking. The Lohan comment was a tiny drop in a big pond full of generalized celebrity commentary, though, whereas Bush's comments are now front and center in a rollicking Presidential election that has heavily focused on the GOP nominee's comments about women and their bodies.
Trump has released a short apology on the matter. It remains to be seen what Bush will do and what NBC will do, too, but stick with Mediaite for the latest.
UPDATE — 5:30 p.m. EST:
No statement has come from Bush yet, perhaps because he — or someone above him in the chain of command at NBC — deleted his Twitter account.
Here is what it looks like now: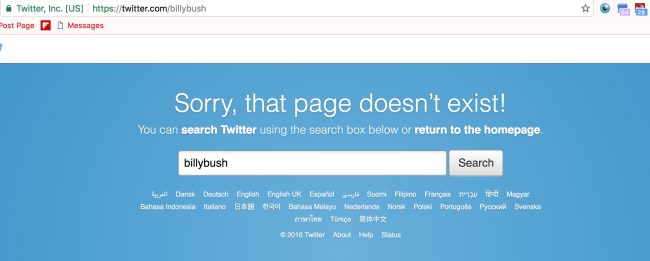 Here is the most recent Wayback archive of the account, to show that @BillyBush was definitely once his handle: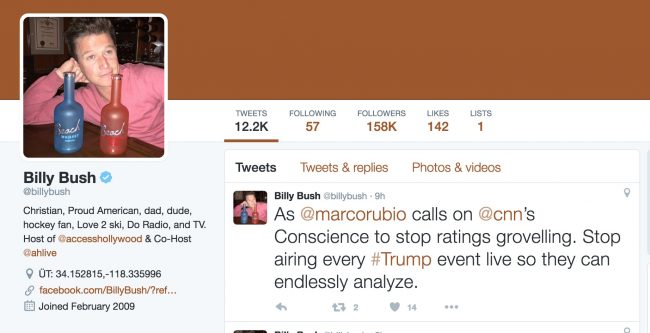 Note the Trump criticism in his tweets.
His Facebook page remains active, and though it does not contain a statement from the host, it has attracted a few comments.
Read that last one again.
Like we said, don't expect NBC to sit around doing nothing when it comes to Bush and his involvement in today's big scandal.
UPDATE — 7:26 p.m. ET:
Bush has issued a statement about his involvement in the Trump conversation.
UPDATE –– 12:20 a.m. ET:
Trump has apologized. Watch the video here.
UPDATE — 6:30 p.m. EST, 10/8/16:
Bush's job at NBC is safe, per a senior executive.
[image via screengrab]
Have a tip we should know? tips@mediaite.com