'Trump's Lies': NY Times Publishes a List of All of the President's Falsehoods Since Inauguration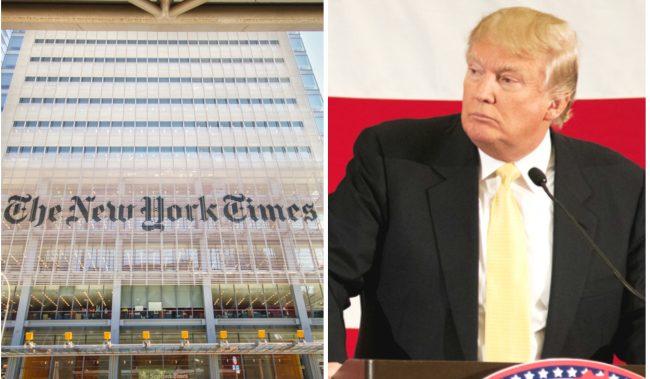 The failing New York Times is at it again.
That is what President Donald Trump is bound to think when he gets a look at a piece which was posted to the paper's website Friday titled "Trump's Lies."
The article, which ran in the opinion section under the shared byline of David Leonhardt and Stuart A. Thompson, catalogued what it said was "nearly every outright lie" since Trump's inauguration.
The list included 100 Trump claims, with the refutations posted immediately after each claim.
The article took pains to point out that they were applying a different standard to lies and falsehoods.
"We are using the word 'lie' deliberately," the authors wrote. "Not every falsehood is deliberate on Trump's part. But it would be the height of naïveté to imagine he is merely making honest mistakes. He is lying."
The piece claims that Trump made at least one false claim during each of the first 40 days of his Presidency. It also claims that Trump made at least on untrue statement on 105 of the first 111 days in office.
In a previous article on the subject, Leonhardt made clear that he does not believe the President's falsehoods to be innocent.
"Trump sets out to deceive people," he wrote.
The Times' managing editor, Dean Baquet, has endorsed the use of the word lie in the paper. In an interview with NPR, Baquet said that although doesn't make the decision to use the word "comfortably," Trump has made statements that, in his view, justify its appearance in print.
"[I]f you look up lie in the dictionary it's pretty clear," Baquet said. "Actually it's a synonym of falsehood."
[images via Shutterstock.com]
——
Follow Joe DePaolo (@joe_depaolo) on Twitter
Have a tip we should know? tips@mediaite.com
Joe DePaolo - Senior Editor