Trump's So Mad About the Russia Probe That He's Been Yelling at the Television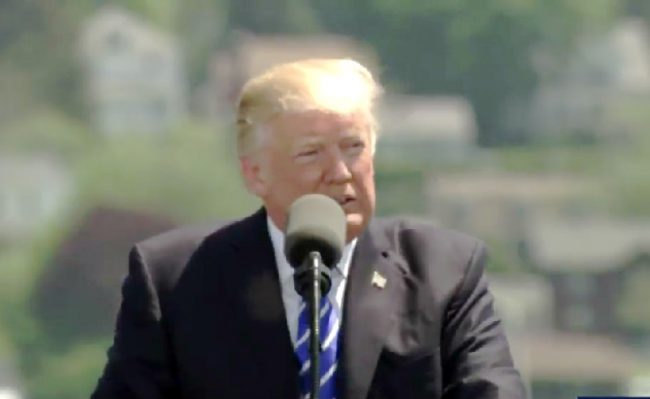 Anyone who has paid attention to President Donald Trump's Twitter account in recent weeks, or witnessed his joint presser with the Romanian president earlier this month, knows that the president is not happy at all with the Congressional and federal investigations into Russian election interference and potential collusion with Trump associates.
However, did you know that he's so mad that he's taken to shouting at TVs in the White House?
In an Associated Press report out this evening about Trump's early-morning tweet confirming he was under investigation for obstruction of justice, White House officials and advisors described a highly irritated POTUS lashing out:
Trump advisers and confidants describe the president as increasingly angry over the investigation, yelling at television sets in the White House carrying coverage and insisting he is the target of a conspiracy to discredit — and potentially end — his presidency. Some of his ire is aimed at [Deputy Attorney General Rod] Rosenstein and investigative special counsel Robert Mueller, both of whom the president believes are biased against him, associates say.
Per the AP, aides have tried to push the president to stay off of Twitter with reports coming out that the probe is heating up, using the positive press he received for his comments after the Congressional baseball shooting convince him.
However, it was to no avail today, as he sent out a fury of angry tweets, calling the investigation a "witch hunt" while throwing Rosenstein under the bus.
[image via screengrab]
—
Follow Justin Baragona on Twitter: @justinbaragona
Have a tip we should know? [email protected]