Turkish Court Bans Access to Twitter, YouTube over Photos of Slain Prosecutor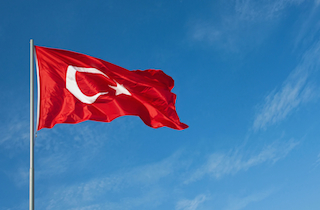 A Turkish court banned access to Twitter and YouTube Monday, according to Reuters, after complaints about the media sharing services in the wake of a fatal attack on an Istanbul prosecutor.
Photos of the prosecutor being held at gunpoint by the far-left radicals DHKP-C circulated around Twitter during the siege. You can see the image here, if that's your thing.
"The wife and children of prosecutor Kiraz have been deeply upset. The images are everywhere," said a Turkish official. "A request has been made to both Twitter and YouTube for the removal of the images and posts but they have not accepted it and no response has been given. That's why this decision has been taken through a court in Istanbul."
Facebook was reportedly initially included in the ban but had it lifted "after it rapidly complied with the court ruling," though it was unclear what that meant. Mediaite has reached out to Facebook for comment and will update this post accordingly.*
Twitter acknowledged the block Monday morning:
We are aware of reports of interruption of our service in #Turkey, and we are working to restore access for our users as soon as possible.

— Policy (@policy) April 6, 2015
Per Bloomberg, several newspapers that published the photograph are also being investigated.
This is not the first time social media access has been jeopardized in the country: Turkish Prime Minister Tayyip Erdogan threatened to ban access last year after hours of wiretap audio of Erdogan's conversations with his inner circle, allegedly revealing high-level corruption, was uploaded to YouTube.
"We will not leave this nation at the mercy of YouTube and Facebook," Erdogan said at the time. "We will take the necessary steps in the strongest way."
In response, Zeynep Tufekci wrote that Erdogan was not trying to eliminate social media access, as had been tried in Egypt and Iran, so much as "taint it."
"Erdogan's strategy is to demonize social media," Tufekci wrote in March 2014. "It is a strategy of placing social media outside the sacred sphere, as a disruption of family, as a threat to unity, as an outside blade tearing at the fabric of society."
As such, the block is not as complete as it is in other countries. On that note:
The most notable thing about Turkey's Twitter block seems how ineffective it's been. Turkish tweeps have all taken to Twitter to complain.

— DavidKenner (@DavidKenner) April 6, 2015
* UPDATE 12:38 p.m. EST – Facebook provided Mediaite with the following statement: "We received valid court orders from the authorities in Turkey requiring us to restrict access to certain content. We have complied, but are appealing."
[h/t Reuters]
[Image via Shutterstock]
——
>> Follow Evan McMurry (@evanmcmurry) on Twitter
Have a tip we should know? tips@mediaite.com