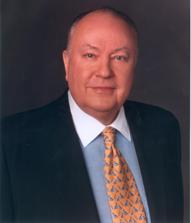 TV Week has released its annual "10 Most Powerful in TV News" list today, placing Roger Ailes, the NBC team, and the CNN team in the medaled positions, respectively. Jon Stewart is the top-ranked TV personality at #5, with Bill O'Reilly and Glenn Beck taking the #7 spot together. Univisión and the Huffington Post did not keep their spots from last year. The takeaway? The TV industry has gotten much more competitive this year and the collective panic attack over CNN's ratings may have been premature.
Author Elizabeth Jensen flits around nearly every corner of the television news industry, ranking pundits, executives, comedians, and even talent agency N.S. Bienstock. It spans some of the biggest names and, at least according to our Power Grid, is mostly accurate. MSNBC president Phil Griffin, this year's #2, is far outranked by Ailes on the Power Grid, the latter at #7 among TV Titans and Griffin at #45. O'Reilly and Beck are ranked about the same among TV hosts– 6 and 5, respectively– and while Jon Stewart is ranked among hosts at #50, his internet numbers far surpass many competitors. The most interesting thing about Stewart's ranking on this list is that last year he was accompanied by the entire Comedy Central crew, including Stephen Colbert, who far outranks him on the Power Grid at #35.
The list is, however, somewhat less diverse than last year. The absence of the Huffington Post and Univisión suggest that there simply wasn't the space on the list to give most eclectic TV-related outlets a position on the list. In other words, the competition was simply too strong this year. And that's a good thing for TV. If no actual channels can overcome the influence of a political blog and a news channel that doesn't broadcast in English, TV moguls have to work harder.
But by far the most shocking development on the list is that CNN, which has been delivering some of the lowest ratings in its history recently, maintained the #3 spot it achieved on last year's list. That CNN has somehow managed to stay put on a list of powerful TV News entities for anyone who has read any major media outlet lately may come as a shock, especially when taking into consideration that NBC, though still ranked as more influential, dropped a position over the last year. But as Jensen astutely notes, the ratings disaster is only in comparison to the astronomical growth over at Fox News and MSNBC's not-too-shabby attempts to keep up. CNN's ratings last year were actually better than they were in 2006-07 (during which CNN was still broadcasting The Glenn Beck Program), and their profits were higher than ever in their history. In fact, CNN did so well this year that they scored two entries– one for their corporate leaders and one for incoming and outgoing Sunday talent Christiane Amanpour and Candy Crowley. And with the channel launching a new program with John King, planning to revamp its morning programming, and possibly bringing in fresh blood with MSNBC employee of the month David Shuster, it must be reassuring to know they haven't hit rock bottom yet, no matter what Politico says.
Have a tip we should know? tips@mediaite.com