Twitter Explodes Over News That Bannon Is Out at Breitbart: 'Welcome to the Resistance'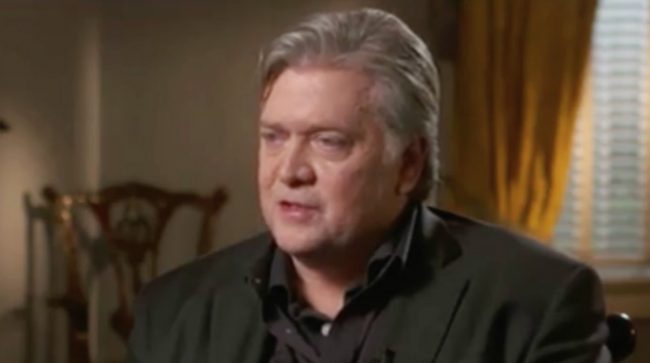 News broke this afternoon that former White House chief strategist Steve Bannon was out at Breitbart News. The company announced he was stepping down from his position as executive chairman of the far-right news outlet. The New York Times reported that Bannon was forced out of his post by his ex-financial backer Rebekah Mercer.
It would appear that Bannon was unable to survive the was he had found himself in with President Donald Trump over remarks he made in Michael Wolff's controversial Trump tell-all Fire and Fury. In recent days, the president has said Bannon "lost his mind," gave him the nickname "Sloppy Steve," and indicated he was completely done with Bannon. While Bannon eventually released a semi-apology, it was too late for the president, who told his allies to go out and "bury Steve" on TV.
As you'd imagine, there was quite a reaction on Twitter to this blockbuster development:
Bannon out at Breitbart. He's gonna need a new apartment… and a new source of income.

— Joy Reid (@JoyAnnReid) January 9, 2018
What an extraordinary fall for Steve Bannon. A year ago he was the chief strategist to the incoming President of the United States. And now… ???

— Brian Stelter (@brianstelter) January 9, 2018
Hahahahahaha – good riddance!! https://t.co/lFfaXdewWn

— Meghan McCain (@MeghanMcCain) January 9, 2018
Exclusive clip of Steve Bannon packed up to leave the Breitbart embassy. pic.twitter.com/QyPfFlO40z

— Adam Smith (@asmith83) January 9, 2018
Bannon's fall continues. He is now OUT as Breitbart's executive chairman. Bannon statement via Breitbart: "I'm proud of what the Breitbart team has accomplished in so short a period of time in building out a world-class news platform."

— Jeremy Diamond (@JDiamond1) January 9, 2018
Bannon tearfully holding a cardboard box filled with keepsakes, photos & skin tags turns and takes one final look at the Breitbart office

— Desus Nice (@desusnice) January 9, 2018
— Comfortably Smug (@ComfortablySmug) January 9, 2018
i can't even imagine what an UNemployed steve bannon will look like

— andy levy (@andylevy) January 9, 2018
Steve Bannon, welcome to the resistance.

— Matthew Yglesias (@mattyglesias) January 9, 2018
Bad hombre deported from Breitbart. https://t.co/VL6WVzwO6e

— Ana Navarro (@ananavarro) January 9, 2018
I hate to kick a guy when he's down, but I've been telling you for years that Bannon is an idiot

— John Podhoretz (@jpodhoretz) January 9, 2018
The Alabama Senate race that was going to jumpstart Bannon's populist revolution was less than a month ago

— Allahpundit (@allahpundit) January 9, 2018
[Steve Bannon rematerializes in a year, spotted wearing a bandanna and a military jacket while trying to launch a DSA chapter]

— Matt Pearce ? (@mattdpearce) January 9, 2018
just sitting here laughing about all those "BANNON WILL GO NUCLEAR AND USE THE FULL FORCE OF HIS BLOGGING ARSENAL TO DESTROY CONGRESS" headlines from after he left the White House

— Haley Byrd (@byrdinator) January 9, 2018
A former WH ally of Bannon's tells me: "I've gone from being sympathetic to Steve to believing he's a genuinely bad guy, totally duplicitous. It's a shame. He has a lot of talent. But his self-destructive streak is unlike anything I've ever seen." https://t.co/NZl58mbqkS

— Jonathan Swan (@jonathanvswan) January 9, 2018
Quite the juxtaposition to see Trump begin to shift to center on immigration on same day Bannon is out the door at Breitbart.

— Jim Acosta (@Acosta) January 9, 2018
Remember that Steve Bannon compared himself to Thomas Cromwell, so he probably saw his fall from grace and execution coming. https://t.co/62nVzJUZ1I

— Kevin M. Kruse (@KevinMKruse) January 9, 2018
Steve Bannon just put on 4 more shirts

— Andy Richter (@AndyRichter) January 9, 2018
I don't know exactly how far Bannon falls but I hope it involves a state fair and farm animals.

— Nathaniel Friedman (@freedarko) January 9, 2018
Steve Bannon is leaving Breitbart to spend more time *looks at notes* trying to suck his own cock.

— Parker Molloy (@ParkerMolloy) January 9, 2018
And there was this from a Breitbart employee:
Breitbart loses it's chief honey badger https://t.co/793eWAIUz7 pic.twitter.com/PrYi8w9X7p

— Charlie Spiering (@charliespiering) January 9, 2018
[image via screengrab]
—
Follow Justin Baragona on Twitter: @justinbaragona
Have a tip we should know? tips@mediaite.com