Twitter Fact-Checks Trump After Inaccurate Tweets Defending Against Forced Kissing Allegations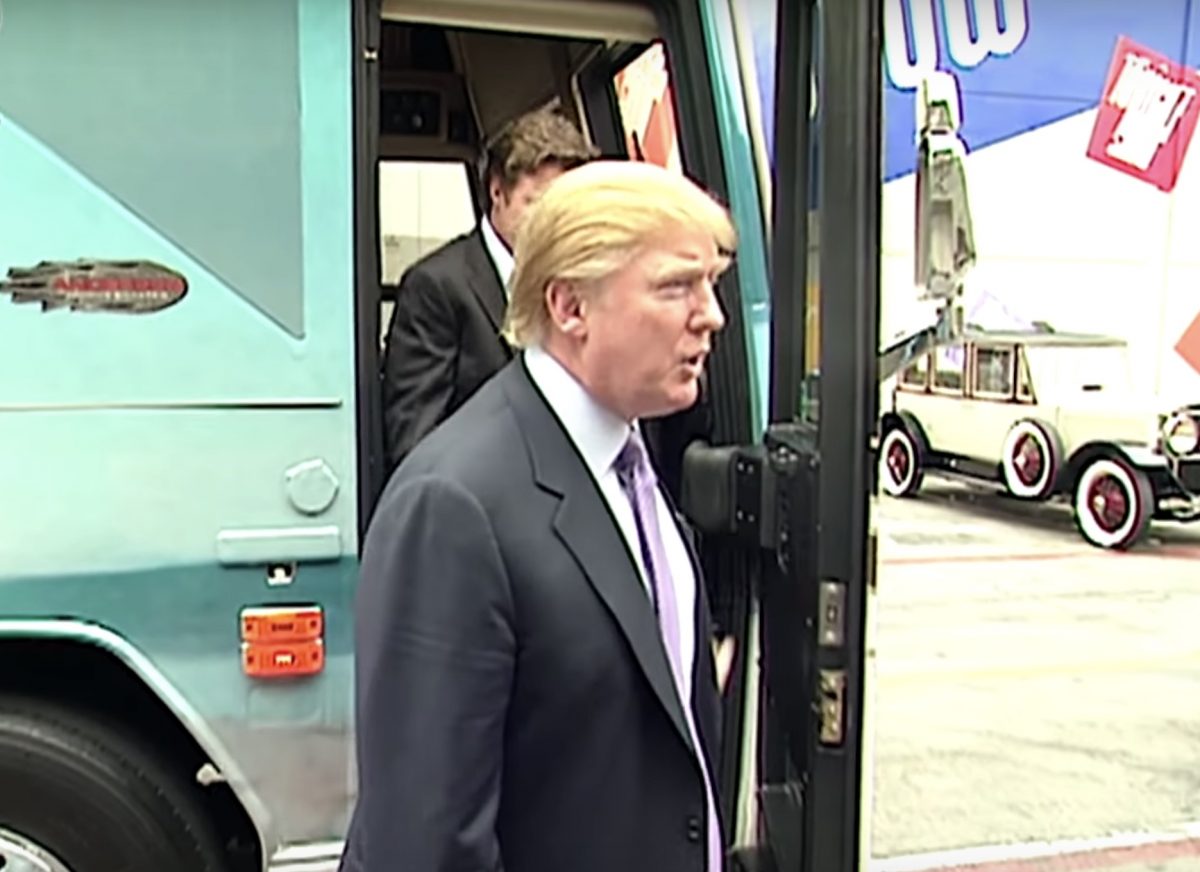 President Donald Trump promptly took to Twitter to dispute claims made in a new Washington Post report on Rachel Crooks — one of the 19 women accusing the president of sexual misconduct.
A woman I don't know and, to the best of my knowledge, never met, is on the FRONT PAGE of the Fake News Washington Post saying I kissed her (for two minutes yet) in the lobby of Trump Tower 12 years ago. Never happened! Who would do this in a public space with live security……

— Donald J. Trump (@realDonaldTrump) February 20, 2018
….cameras running. Another False Accusation. Why doesn't @washingtonpost report the story of the women taking money to make up stories about me? One had her home mortgage paid off. Only @FoxNews so reported…doesn't fit the Mainstream Media narrative.

— Donald J. Trump (@realDonaldTrump) February 20, 2018
The tweet about what Trump claims to be a false accusation was laced with false information. Twitter wasted no time pointing out the president is pushing some fake news.
Also, not that this matters, but Rachel Crooks alleges this happened outside her office and not in the lobby of Trump Tower https://t.co/i2LuWa8gUu

— Ben Jacobs (@Bencjacobs) February 20, 2018
It matters a lot – he's arguing it happened somewhere else, more public, to suggest it therefore didn't happen at all https://t.co/F47zzrxl0T

— Maggie Haberman (@maggieNYT) February 20, 2018
Rachel Crooks didn't say it was in the lobby of Trump Tower. She said it was in the hallway outside of Bayrock's office in Trump Tower, which was a relatively quiet and untraveled area, And she said her requests for Trump to release security camera footage have gone unanswered. https://t.co/DzF9q7Aqjh

— Tim O'Brien (@TimOBrien) February 20, 2018
Trump has regularly and falsely claimed to have never met accusers we know he has met. (Incidentally, he has done the same about Putin.) pic.twitter.com/ziaVQQM2vv

— Daniel Dale (@ddale8) February 20, 2018
Trump is lying here to make the location of the alleged incident sound more public than it was. Crooks claims the assault happened by the elevators on the 24th floor, not in "the lobby." pic.twitter.com/Y99MVyCySG

— Daniel Dale (@ddale8) February 20, 2018
Among other things, this tweet is inaccurate. The Washington Post story says this incident happened outside the Bayrock offices in Trump Tower, early in the morning. Not in the lobby of Trump Tower. https://t.co/XbFr3GemU6

— Sam Levine (@srl) February 20, 2018
If @realDonaldTrump wants to insist nothing happened and Rachel Crooks wants to claim he kissed her for two minutes, why isn't it settled by releasing video of the incident at Trump Tower?

— Anna Giaritelli (@Anna_Giaritelli) February 20, 2018
No, she did not say it happened in the lobby of Trump Tower, she said it happened "waiting for the elevator outside our office." https://t.co/o6z1D5t1fI

— Sam Thielman (@samthielman) February 20, 2018
Fact check: The allegation described in the article is that the kiss occurred outside of an office in Trump Tower, not in the lobby. https://t.co/5YNiOleYQC https://t.co/ZZQPDYC1rx

— Tamara Keith (@tamarakeithNPR) February 20, 2018
..in effort to undercut her story. She did not claim he kissed her in Trump tower lobby but rather in her office lobby on higher floor: https://t.co/NQ0oOKag2t https://t.co/NmcY1wgxt3

— Cathleen Decker (@cathleendecker) February 20, 2018
[image via screengrab]
——
Follow Joe DePaolo (@joe_depaolo) on Twitter
Have a tip we should know? [email protected]
Joe DePaolo - Senior Editor