Twitter Mocks Rush Limbaugh for Evacuating Ahead of Irma: 'Decided to Flee the Liberal Hoax'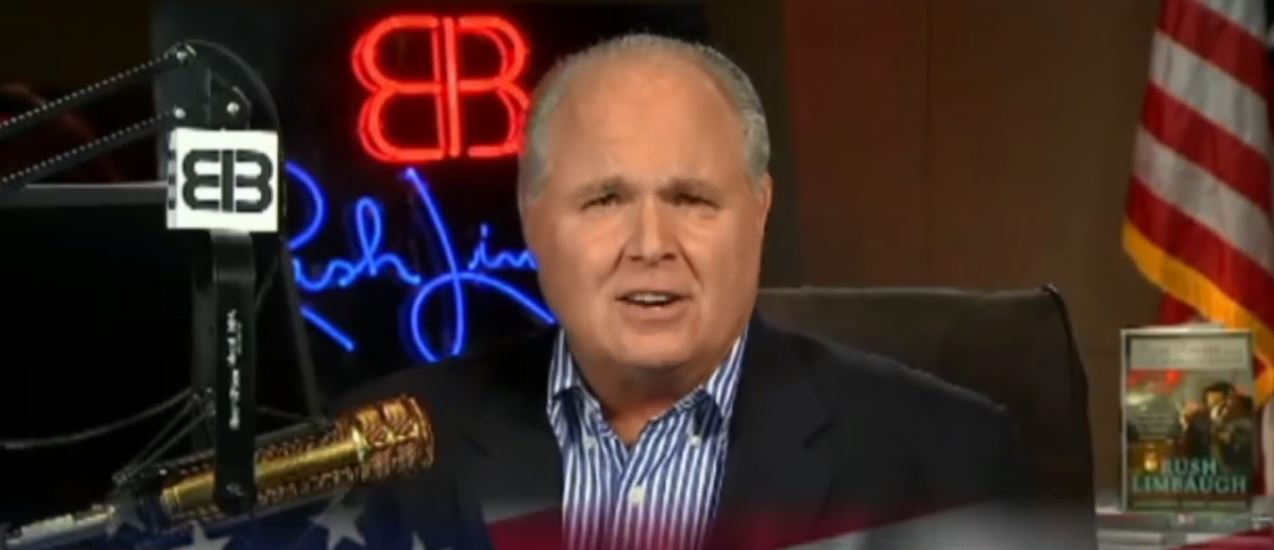 Earlier this week, conservative talk radio giant Rush Limbaugh suggested Hurricane Irma may be part of a larger "deep state" conspiracy relating to climate change — however, he later announced that he would be fleeing his home in South Florida.
This blatant hypocrisy was pointed out by many, as Limbaugh implied Irma coverage was — in part — a hoax, but decided to run from it once the danger got personal. When he first suggested the hurricane-related conspiracy, Irma was already on track to hit islands in the Caribbean where it has since devastated homes and taken the lives of at least three people.
For his flip-flopping, Limbaugh suffered immense public shaming. He even began trending on Twitter as many users took to the social media platform to mock and ridicule the king of AM radio:
Rush Limbaugh Tuesday: "Climate change is a hoax and Irma is no big deal!"

Limbaugh today: pic.twitter.com/zjiGHKsmvB

— Nick Jack Pappas (@Pappiness) September 8, 2017
Rush Limbaugh indicates he has evacuated his Florida home after accusing media of needlessly hyping Hurricane Irma https://t.co/j9HW82fiwz

— Oliver Darcy (@oliverdarcy) September 8, 2017
Rush Limbaugh flees Florida after he cavalierly said Irma was overblown. Do us a favor and turn in your FL card.

— Rick Wilson (@TheRickWilson) September 8, 2017
Rush Limbaugh Tuesday: "Climate change is a hoax and Irma is no big deal!"

Limbaugh today: "I HAVE TO FLEE BEFORE MY OXYCONTIN GETS WET!!"

— Rex Huppke (@RexHuppke) September 8, 2017
Rush Limbaugh – who called Irma coverage a liberal hoax – has decided to flee the liberal hoax.

— Kurt Eichenwald (@kurteichenwald) September 8, 2017
Im fairly certain that Rush Limbaugh is a hoax and that climate change is real #HuricaneIrma https://t.co/FSgLzs3Uvo

— Tina-Desiree Berg (@TinaDesireeBerg) September 8, 2017
What I don't get is why Rush Limbaugh would try to weather-murder his own listeners? That's just bad business.

— Caissie St.Onge (@Caissie) September 8, 2017
Strong-winded destructive force that's already caused untold suffering and devastation, Rush Limbaugh, flees some storm.

— John Fugelsang (@JohnFugelsang) September 8, 2017
Limbaugh's backtracking over Hurricane Irma–without so much as a warning to listeners, let alone apology–is so thoroughly fucking evil.

— Charles Clymer?️‍? (@cmclymer) September 8, 2017
Weather experts in Florida no longer know if the winds are being caused by #IrmaHurricane2017 or by the speed of Rush Limbaugh fleeing

— Jeff Dwoskin (@bigmacher) September 8, 2017
i'm calling for a total and complete shutdown of rush limbaugh entering other states until we can figure out what the hell is going on https://t.co/mWdv4yqmsM

— Paul Smith (@paulsmith) September 8, 2017
I'm at Rush Limbaugh's house w Iggy Pop.
Robbing with John
Robbing with John

dream come true for me

— John Lurie (@lurie_john) September 8, 2017
[image via screengrab]
Have a tip we should know? tips@mediaite.com