Twitter Users Flay Clarence Thomas For Casting Only Vote Against Black Death Row Inmate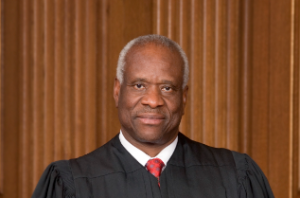 Today, the Supreme Court ruled in favor of a black death row inmate who contended for almost 20 years that prosecutors removed black jury members from his trial in a case of clear racial bias. Well, the Supreme Court ruled that way, but one of the justices did not.
It was Clarence Thomas, the only justice of color, who dissented. It doesn't matter to the outcome of the decision, of course, but to many people, it matters on principle. He's really been taking heat online and has been trending since the decision came down.
Clarence Thomas will always find way to make himself less credible to all people, Black and white in the country. https://t.co/ceTAU5UlYL

— Brandon Ledyard (@qmedproducts) May 23, 2016
Clarence Thomas has serious psychological problems. That man has Stockholm syndrome like no body I have ever seen. He needs help.

— Carolyn Hyppolite (@CKHyppolite) May 23, 2016
I have no words for Clarence Thomas. He's in the same category of people as Ben Carson in my opinion. I'm sure they live sad lives.

— Mantonie J. Byrd (@MantonieByrd) May 23, 2016
Clarence Thomas says "This one's for you, Antonin!"

— Buh Bye GOP (@BuhByeGOP) May 23, 2016
Clarence Thomas, you gotta respect his literal dogmatic interpretation of law, he'd happily send himself back to slavery without hesitation

— Fat (@Bloke_On_A_Bike) May 23, 2016
Me when I saw Clarence Thomas trending… #SCOTUS pic.twitter.com/rArRe5xMls

— ShakariSBriggs (@ShakariSBriggs) May 23, 2016
The man at the center of the case, Timothy Foster, has now seen his death penalty conviction overturned, though it is important to note that he admitted to the crime of killing an elderly woman in Georgia in the mid-1980s.
[image via screengrab]
For more from Lindsey, follow her on Twitter or Facebook.
Have a tip we should know? tips@mediaite.com