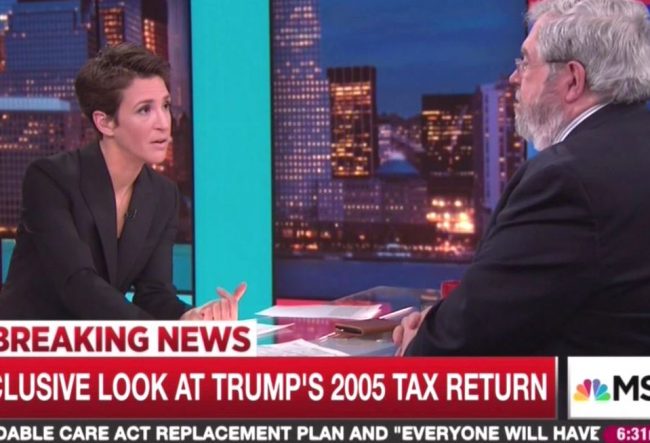 Rachel Maddow may be the single most important liberal voice in America. Yes, there are certainly columnists who may get quoted more but five days a week, Maddow leads the charge for liberals and against what she often sees as the dangers and hypocrisy of the Republican establishment (and, of course, Donald Trump). Her commentaries are well researched, thought provoking and often newsworthy. Maddow also has the highest rated show on MSNBC which across the board has seen significant bumps in prime-time numbers and audience growth. Throughout the 2016 election, Maddow alternated between the thoughtful left-leaning commentary of her show, and providing live coverage on some the biggest moments of the year. Whether she's addressing national security, international politics, or the changing nature of political discourse, Maddow will remain a prominent fact checker and critic of the incoming administration.
The Internet promptly exploded after Rachel Maddow announced that she had obtained a portion of Donald Trump's 2005 federal tax return.
At the top of her show at 9:00 p.m, however, Maddow teased her viewers with an extended cold open on the importance of tax returns.
Twitter users expressed a mix of frustration and frenzy as they waited for the big moment.
Again, MADDOW TALKING FOR A MILLION YEARS IS NORMAL. She's breaking shit down for your grandpa who doesn't read the internet. #Maddow

— Lily Herman (@lkherman) March 15, 2017
All of us watching Rachel #Maddow pic.twitter.com/kMVJgOd1MY

— Jacob Goldstein (@GoldsteinStreet) March 15, 2017
Kellyanne Conway is already prepping for the interview where she claims Rachel Maddow got the tax return directly from her Keurig

— Jason Paussa (@JasonSCSM) March 15, 2017
Even if @maddow's report underwhelms, response by Trump camp tonight proves he can, in fact, release his tax returns.

No more excuses.

— Alheli Picazo (@a_picazo) March 15, 2017
All of twitter right now waiting for Rachel Maddow to break #TrumpTaxes pic.twitter.com/CwIJj4R2TN

— Alex Morash (@AlexMorash) March 15, 2017
brb gonna watch the titanic real quick while Maddow admires the sound of her own voice

— Olivia Nuzzi (@Olivianuzzi) March 15, 2017
FUCK COMMERCIALS I PROMISE TO NEVER BUY ANY OF THESE PRODUCTS #RachelMaddow

— Kumail Nanjiani (@kumailn) March 15, 2017
More than a million people have signed a petition demanding that Rachel Maddow release Trump's tax returns

— Nate Cohn (@Nate_Cohn) March 15, 2017
Why won't Rachel Maddow release Donald Trump's tax returns? What's she hiding?

— T.J. Quinn (@TJQuinnESPN) March 15, 2017
Have a tip we should know? tips@mediaite.com