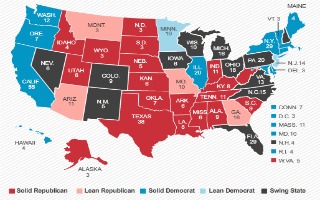 Two polls released on Monday show two varying pictures of the 2012 presidential race. A Politico/George Washington University poll from Monday showed Former Massachusetts Gov. Mitt Romney leading President Barack Obama with 48 to 47 percent, while a USA Today/Gallup poll of 12 swing states shows President Obama leading Romney by 47 to 45 percent. What both polls show is that with six months to go, the race for the presidency is a near dead heat.

RELATED: First Gallup Tracking Poll Mitt Romney 47%, President Obama 45% Mediaite
The Politico/GWU poll shows Romney leading Obama by 2 points with 8 percent undecided. A generic Congressional ballot survey also shows Republicans leading Democrats by 2 points, with 45 to 43 percent support. Both results are, however, within the poll's +/- 3.1 percent margin of error. The survey was taken between April 29 and May 3 of 1,000 "likely" voters.
The Politico/GWU poll shows a majority of voters approve of the job the president has done on foreign policy and "Standing up for the middle class." Voters gave the president negative marks on issues like the economy, "dealing with Congress," jobs, the deficit and spending. Voters were split on the president's performance on the issues of entitlement reform and taxes.
However, when asked to choose Obama or Romney on specific issues, the president won the support of voters on every issue except "the economy."
In the USA Today/Gallup poll of swing states, the race could not be closer. Of those 12 swing states, Colorado, Florida, Iowa, Michigan, Nevada, New Hampshire, New Mexico, North Carolina, Ohio, Pennsylvania, Virginia and Wisconsin, Obama leads Romney in an average of all those states at 47 to 45 percent.
USA Today/Gallup found that Democrats leads the GOP in the enthusiasm race, with More Democrats than Republicans enthusiastic about casting their votes in November – a shift from previous battleground polls:
But the poll also finds a reversal in what has been a key GOP asset in the five previous battleground surveys taken since last fall: an edge in enthusiasm among voters. For the first time, Democrats are more likely than Republicans to say they are extremely or very enthusiastic about voting — a shift from a 14-percentage-point GOP advantage at the end of last year to an 11-point deficit now.
Even in this poll that is all good news for President Obama, Romney still edges him out on the question of who would do better on the issue of the economy.
Among those surveyed, 60 percent say a President Romney would do a good or very good job handling the economy over the next four years; 52 percent say that of Obama. Even among the president's supporters, four in 10 predict Romney would do a good job. In a direct comparison, Romney edges Obama, 47-44 percent, as the one who would do a better job.
The USA Today/Gallup poll was taken of 985 registered voters in 12 swing states from April 26 to May 2. That survey has a +/- 4.0 percent margin of error.
Have a tip we should know? tips@mediaite.com