Two Years Later: Sarah Palin Has Come A Long Way From The Slaughtered Turkey Video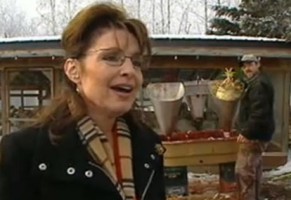 Look how far Sarah Palin's come. It was only two year ago that the former Vice Presidential candidate — and then Alaskan Governor — was giving her first post-election interview just a few feet from turkeys getting slaughtered – a PR nightmare that some though showed her naivete. Cut to two year later, Ms. Palin is the star of her own hit reality show, a best-selling author, a legitimate 2012 presidential candidate and a political force that the has put the established political class back on their heels.
Remember, the accepted media narrative at that time was that Palin didn't possess the intellectual heft to be a serious candidate for high office. Not surprisingly, the left had a field day with this, perhaps best evidenced by the way it was reported by David Edwards and Stephen C. Webster at Raw Story at the time:
Now Alaska Governor and failed Vice Presidential candidate Sarah Palin has mimed presidential tradition, but her effort at winged mercy was 'cut' short. As she staged an impromptu press conference after pardoning one lucky bird, a worker at the Triple D Farm and Hatchery in Wasilla sliced a turkey's neck, bled it out and twisted its head off behind the governor, directly in the camera's line of fire.

A reporter asked Palin if she was okay with the backdrop. The Alaskan Governor answered, "no worries." As the bird's head was removed, the man looked over his shoulder at the governor and reporters and flashed a toothy grin.

"I was happy to be invited to participate in, in this, and, uh, and, you know, for one, you need a little bit of levity in this job, especially with a, uh, so much that has gone on in the last couple of months that has been so, um, political, ah, obviously, that it's nice to get out and, and do something to promote a local business and, and to uh, just participate in something that isn't so, um, heavy-handed politics that, uh, invites criticism," said the governor in what appeared to be a single sentence.
After this video went viral, Countdown host Keith Olbermann predictably chose a unique method to report the story. Here he is, watching it live for the first time, so his viewers could track his reaction in real time:
Have a tip we should know? tips@mediaite.com
Colby Hall - Founding Editor