TYT's Cenk Uygur Rips Media, Clinton For Presuming Trump Won't Win: 'You're Losing!'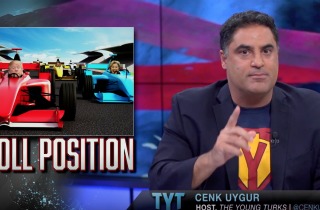 Cenk Uygur sunk his teeth into Hillary Clinton and the "establishment media" on Thursday night, as he talked about how often they overestimate her actual chances of beating Donald Trump.
The Young Turks held a preference for Bernie Sanders throughout the 2016 election, and Uygur himself has taken the media to task by saying the Vermont Senator's coverage was largely negative and unfairly done. Last night, not only did Uygur remind viewers that Sanders was projected with a stronger likelihood of defeating Trump than Clinton, but he also bashed the media for willfully discounting the fact that multiple polls show Clinton falling behind the mogul.
"Open your eyes a little bit, because if you open your eyes, you'll see that Donald Trump is leading," Uygur said. He went on to note how frequently media figures say a lead for Clinton is "commanding," while a lead for Trump is challenged as uncertain.
Eventually, Uygur blasted off on the Clinton campaign for viewing the presidency as "inevitable" instead of realizing that she is not resonating with the people. Uygur made his point by reminding Clinton that "you got your ass handed to you in 2008," and now she can't seem to defeat a "monstrous" opponent who could be easily defeated in other circumstances.
"You're losing to him," Uygur shouted. "Tell the American people why you want to be president, how are you going to help them? More of the same is the worst platform I've ever seen!"
Watch above, via The Young Turks.
[Image via screengrab]
— —
>> Follow Ken Meyer (@KenMeyer91) on Twitter
Have a tip we should know? tips@mediaite.com