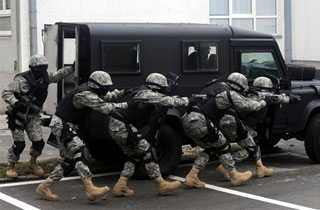 A federal court ruled today that SWAT teams cannot claim immunity against lawsuits alleging unjustifiable use of force, which is generally good news for people who aren't into the police militarization thing.
The case, which appeared before the U.S. 2nd Court of Appeals in New York, struck down a claim that Connecticut police could not be sued for violating the constitutional rights of Ronald Terebesi, whose home was forcefully entered by a SWAT team with a drug warrant in 2008. While they were only searching for "a small amount of drugs meant only for personal use," the SWAT team used stun grenades, forcefully entered Terebesi's home, and shot his visiting friend a half dozen times, killing him. (There were no guns in the house.)
According to Yahoo! News, the appeals court ruled that Terebesi had the right to at least sue the police:
In a 51-page ruling that upholds a lower court decision, the appeals court said the police responded with unnecessary and inappropriate force and under the circumstances, are not protected by "qualified immunity" from the lawsuits.

The U.S. Supreme Court has ruled that government officials have qualified immunity against civil damages if their conduct does not violate someone's legal or constitutional rights.

"The plaintiffs presented evidence indicating that all of the defendants understood that the warrant was for a small amount of drugs meant only for personal use. The basis for the officersʹ entry, in other words, was related to an offense that was neither grave nor violent," the appeals court wrote in a decision released late Monday.
The consequences of this ruling are vast, according to Terebesi's lawyer: "They set up the parameters that define the extent to which qualified immunity can be asserted by police in SWAT cases."
[h/t Yahoo News]
[Image via Shutterstock]
—
>> Follow Tina Nguyen (@Tina_Nguyen) on Twitter
Have a tip we should know? tips@mediaite.com