U.S. Prevents British Muslim Family from Visiting Disneyland, Donald Trump Blamed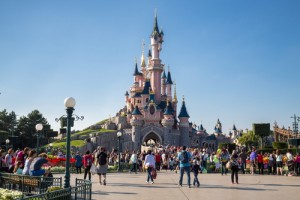 A British Muslim family was prevented from boarding a flight from London to Los Angeles, where they were planning to attend Disneyland for vacation, by the Department of Homeland Security for undisclosed reasons.
According to the Guardian, Mohammad Tariq Mahmood, his brother and nine of their children were stopped at London's Gatwick airport by American officials. No official reasons were provided to Mahmood and his family, but he told the Guardian that the reasoning behind it all was "obvious."
"It's because of the attacks on America," he said. "They think every Muslim poses a threat."
Adding further insult to injury, Mahmood claims the airport refused to refund them the $13,340 it cost for all 11 boarding passes. They were also required by security to return everything they'd purchased from the international terminal's duty-free stores before leaving.
British Labour MP Stella Creasy, in a Guardian op-ed about the incident, claimed that at least one more constituent recently had a similar experience. Among other things, she blames Republican presidential candidate Donald Trump's anti-Muslim and anti-immigration rhetoric.
"Online and offline discussions reverberate with the growing fear UK Muslims are being 'trumped'– that widespread condemnation of Donald Trump's call for no Muslims to be allowed into America contrasts with what is going on in practice."
Both the Guardian and the Washington Post have tried contacting the London U.S. Embassy and DHS for comment on the matter. The latter reports that the embassy confirmed Mahmood's story, but provided no further details as to why he and his family were prevented from boarding their Los Angeles flight. Nor did the State Department or DHS provide any details (or respond, for that matter).
[h/t Washington Post]
[Image via Shutterstock.com]
— —
>> Follow Andrew Husband (@AndrewHusband) on Twitter
Have a tip we should know? tips@mediaite.com