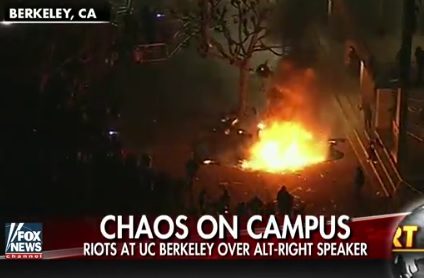 The major student-run paper of UC Berkeley ran five op-eds Tuesday defending the riots on campus, and arguing that violence was an acceptable response to a speech from Breitbart editor Milo Yiannopoulos.
The Daily Californian editorial board published five op-eds from five students and former students, who uniformly believed the riot was justified. Nisa Dang demanded critics "check their privilege" before condemning the riots, blaming the violence on the appearance of the police. "I don't care what Breitbart article or liberal bullshit listicle you've read, or what your experiences in white suburbia might have taught you — police are violent agents of the state."
Juan Prieto insisted the violence was justified because Yiannopoloulos could have outed illegal immigrant students: "To me, the argument should not revolve just around freedom of speech but also around the hate speech that fails to respect the humanity of undocumented people. This speaker has never provided an insightful look at conservatism nor provided intellectual debate to the arena. He has fabricated a tool to sensationalize himself with while providing a platform for white supremacists to come together."
"These were not acts of violence. They were acts of self defense," wrote queer activist and former columnist Neil Lawrence. "And to Yiannopoulos and all your friends who invited you and hosted you and defended your 'right' to speak: I recommend you learn your lesson. Our shields are raised against you. No one will protect us? We will protect ourselves."
"The violence that forms the foundation of Yiannopoulos' ideology is far worse than any tactic the black bloc uses," argued Desmond Meagley. "You don't have to like property damage, but understand that without it, Yiannopoulos would have released private and sensitive information about innocent students and encouraged assault against them. If the fireworks or the damage done to the Amazon store scared you, know that every single person in that crowd was scared too, even (if not especially) those dressed in black."
"Yiannopoulos and his supporters have a track record of actively targeting people in their hate speech, and the ideology they peddle perpetuates ideas that urgently endanger members of our community," argued Josh Hardman. "In short: The principle of freedom of speech should not be extended to envelop freedom of hate speech, for the unchecked normalization of hate speech will have real consequences."
It's unclear why the students are defending the riots, when according to UC Berkeley professor Robert Reich, they were secretly carried out by undercover right-wing infiltrators allied with Breitbart.
[Image via screengrab]
—
>>Follow Alex Griswold (@HashtagGriswold) on Twitter
Have a tip we should know? tips@mediaite.com