Van Susteren Calls For Radio & TV Correspondents Dinner Boycott, Dubs Headliner Louis C.K. A 'Pig' (Update)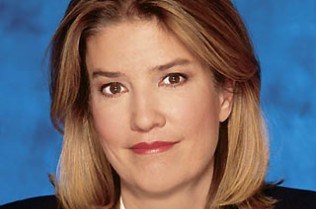 On the heels of this morning's blog post taking Obama campaign adviser David Axelrod to task for promoting a double standard by visiting "serial pig" Bill Maher's show, On The Record anchor Greta Van Susteren is calling on her colleagues to boycott the Radio and Television Correspondents Association Dinner because of the event's headliner, comedian Louis C.K.
In a Greta Wire post posted this evening, Van Susteren explains why she's refusing to attend this year's dinner — and why she believes others should follow her example:
RELATED: Greta Van Susteren Calls Out David Axelrod For Appearing On Maher's Show: 'Maher Is A Serial Pig'
The headliner of this year's Radio and Television Correspondents Dinner is "comedian" Louis C.K. Comedian? I don't think so. Pig? yes.

He uses filthy language about women…..yes, the C word…and yes, even to describe a woman candidate for Vice President of the United States. It isn't just Governor Palin he denigrates. He denigrates all women and looks to the crowd to laugh.

I refuse to show any support for this guy or for the Radio and Television Correspondents Association Dinner Committee who hired him. I think the organization that hired him is just as bad as he is. It is no secret that he denigrates women.
She offers examples of C.K.'s rants against former Alaska governor Sarah Palin, including jokes at the expense of her special-needs child, Trig. You may recall that, in her earlier post, Van Susteren directly addressed the argument that comedians should be held to a different level of accountability based on the nature of their profession by noting that "being a comedian is not license to be a bigot or degrade women."
C.K., like Maher, has an extremely loyal (and, if my Facebook friends are any indication, very vocal) fanbase, so it'll be interesting to see what kind of response and discussion Van Susteren's post inspires, both in terms of the ongoing debate about how men in the media can or should talk about women, as well as about the nature of comedy and role played by comedians in our national discourse.
"I hope all the other women and men in the media join me in not going," Van Susteren concludes. "I also hope everyone has the courage to stand up to this."
—
Update: Van Susteren is also calling for Newsweek/Daily Beast EIC Tina Brown and the women attending her currently unfolding "Women in the World" summit to join her in boycotting the Radio & Television Association Correspondent Dinner:
This would be a GREAT opportunity for women to speak out about the outrageous guest at the upcoming media dinner, the Radio and Television Correspondents Dinner.

I urge all the women at this summit (c'mon Tina, you have their ear!) to join me in calling for a boycott of the dinner (unless the dinner committee dumps the current headliner.) The women's guest list at this summit is heavily US media….
h/t Greta Wire
Have a tip we should know? tips@mediaite.com