Vandalism Of North Carolina Republican Headquarters Bears Oddly Familiar Signature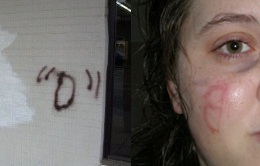 Following the vandalism of the Obama campaign's Los Angeles Office, which was reported widely by national media on Friday, a Republican Party headquarters in Greensboro, NC was vandalized overnight Saturday, according to reports. The Guilford County Republican Party office was defaced with messages related to the Ku Klux Klan, but the vandals also signed their work with a spray-painted "O" inside quotation marks. It was an odd flourish that, like the attack on the Obama office, has roots in the 2008 campaign.

A reader tipped me off to this story, which has not, as yet, received national attention, after I reported on the vandalism of an Obama campaign office last week, and the fact that it was the continuation of a widespread pattern of incidents during the 2008 election. According to Guilford County Republican Chairman Al Bouldin, the office was also vandalized in July, but the police were not involved at that time. He told the blog Katy's Conservative Corner that ""last  time, they only defaced a sign out front, so we didn't make much of it".
What struck me immediately about this story, aside from the timing of the incident, was this photo, taken by Jeff Cox, Guilford County Republican Men's Club chairman: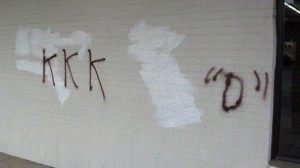 Accompanying the graffiti, in black spray paint, was the letter "O" in quotation marks (it's a bit misshapen, but the Republican chairman who took the picture labeled the photo "KKK O"). The implication is that whoever defaced the office was either a supporter of Barack Obama, or wanted people to think they were.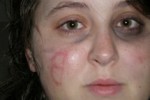 You may recall that, in the waning days of the 2008 presidential campaign, a young McCain campaign volunteer named Ashley Todd reported that she was the victim of a mugging by an alleged Obama supporter, who scratched the letter "B" into her face. It was quickly revealed that her story, and the entire incident, were a hoax, and Todd was arrested.
Just as this year's Republican presidential campaign has been marred by the behavior of some of the GOP debate crowds, in 2008, the ugly mood of the crowds at Republican events was getting a lot of press, and the Ashley Todd story seemed like a perfect (too perfect) rejoinder to that narrative.
At this time, the identities of the vandals in either case is unknown, and investigations are ongoing.
Have a tip we should know? tips@mediaite.com