Veterans' Group Spokesperson: We Did Invite Sarah Palin To Rolling Thunder Event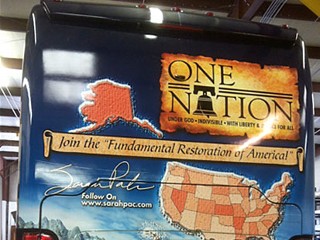 Sarah Palin's "One Nation" bus tour appeared to have gotten off to a false start yesterday as a member of the pro-veterans organization Rolling Thunder went on NBC to denounce her presence at an upcoming event of theirs, claiming no one had invited her. Turns out, as per organization spokesperson Christine Colborne, Palin had been invited, but had RSVP'd too soon for the group to announce her arrival to all its members.
Hot Air's Ed Morrissey called up the organization and got in touche with Colborne, who explained that the issue was one of "internal miscommunication" and that Palin had been invited by Michael DiPaolo, a retired board member. Ted Shpak, another organization spokesperson and veteran himself, hadn't been notified of Palin's appearance by the time he went on Andrea Mitchell Reports and was seriously concerned that Palin would be a "distraction":
Colborne spoke with me on the phone in the middle of an all-night car ride to Washington DC, and explained that the last-minute RSVP didn't get communicated through the echelons of Rolling Thunder. Everyone is either in transit or already in DC, and internal communication broke down as often happens before a major event. Shpak (and Colborne) were taken by surprise by Palin's announcement. Shpak does have the authority to speak for the organization, Colborne says, but he had no idea that Palin was invited by DiPaolo, and Shpak worried that Palin's arrival might be a "big distraction" from the issues on which Rolling Thunder wants people to focus.
Morrissey adds that, with groups like these, the communication error is particularly understandable because it subsists exclusively on volunteer work– none of the people involved in it get a paycheck, and veterans like Shpak are involved based only on their passion for the job. As for Shpak, he has yet to issue a statement on his appearance given the news that Palin is not, in fact, crashing his event.
Shpak's appearance on MSNBC denouncing Palin below:

Have a tip we should know? [email protected]