Veto That Got Rick Perry Indicted Reportedly Killed Investigation into No-Bid Contracts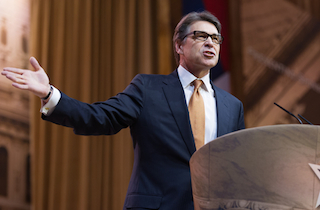 Texas Governor Rick Perry was indicted last summer for a veto threat of a public investigation unit's funding. At the time it was suspected the threat was aimed at more than the unit's head, District Attorney Rosemary Lehmberg, but at the unit's investigations into Perry's administration.
The Houston Chronicle reported Friday night that the vetoed funding killed an investigation into the Department of Public Safety's no-bid contracts. The Public Integrity Unit had been investigating the agency for awarding up to $20 million in no-bid contracts to a Virginia defense contractor for Perry's expanding border security measures. Perry's nixing of $7.5 million of the unit's funding depleted its resources, reportedly shuttering the investigation.
At the time Perry claimed he was vetoing funding over Lehmberg's arrest for drunk driving, for which she served three weeks in jail. That the veto also collapsed the one Texas agency hostile to Perry was regarded as suspicious, and Perry was indicted for abuse of office in August.
Perry laughed off the indictment, as did many political commentators, who found it weak sauce; Perry had fun with Lehmberg's embarrassing arrest video, sold "Wanted" t-shirts, and saw his approval rating rise among GOP primary voters.
The revelation by the Houston Chronicle's Brian Rosenthal and Mike Ward is the first indication that a specific, major investigation was affected by the veto.
"The governor maintained publicly that he was vetoing the budget simply because of the DUI conviction," said State Senator Jose Rodriguez (D-El Paso). "But if – and I emphasize if – if one of the motivating factors was this ongoing investigation on the DPS contracting procedures, then I think Gov. Perry has a lot to answer for."
[h/t Houston Chronicle]
[Image via Christopher Halloran / Shutterstock.com]
——
>> Follow Evan McMurry (@evanmcmurry) on Twitter
Have a tip we should know? tips@mediaite.com