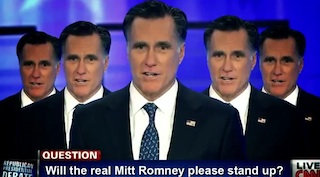 Will we as humans ever stop being amazed by video editors' ability to mix together a ton of video clips and make it seem like people are singing? Judging by the quick viral rise of a new mash-up mixing Mitt Romney quotes and Eminem's hit "The Real Slim Shady," probably never. And, if the videos keep being as funny as this one, that's fine by us.
The video, made by Hugh Atkin, features Romney "singing" to Eminem's song with lyrics like so:
"Y'all act like you haven't seen a Mormon before.
Jaws down on the floor.
I'm not concerned about the very poor.
Got it wrong. Sorry. That's not what I meant.
I want every American to be in the top one percent."
In case you can't tell, the video isn't exactly pro-Romney. So, for those of you who are Romney fans but still want to enjoy the impressive editing, here are some other things to think about while watching:
Did that many news anchors really say some variation of "Who is the real Mitt Romney"? Jeez. Talk about a lazy cliche. For shame.
The part of the song where Romney repeats "My dog is on the roof" twice is the part of the original song where Eminem mocks Tom Green's "The Bum Bum Song" which was a real song in which Green sang about putting his bum on things. That was a real thing. It was a hit. In 1999. Remember that? Crazy.
When will we have a presidential candidate who can really rap? Like legitimately. Like as good as the way President Obama sings Al Green. That's gonna be crazy.
Anyway, here's the video:
Have a tip we should know? tips@mediaite.com