Video Of Middle Schoolers Mocking Bus Monitor Is The Most Unpleasant Thing You'll See Today (UPDATE)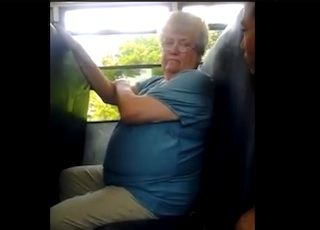 Middle schoolers are terrible people. It's a fact of life. If you're reading this and you're between the ages of 11 and 14, I apologize, but you're the scum of the universe. Don't worry. It's not entirely your fault and, hopefully, you'll become a real human being in just a few years. And, at that point, you'll forget how awful you actually were. At least, that's how things used to be. Now middle schoolers have cell phone cameras and can record their awfulness, making helpful reminders for the rest of us who lead otherwise happily adolescent-free lives. This video is one of those videos.
The video is from western New York and was captured on a school bus going to Greece Athena Middle School. It shows a series of students (including the one holding the camera) ruthlessly tormenting a grown woman serving as their bus monitor. They call her fat repeatedly, order her to give them her address, threaten to urinate and defecate on her, and make casual references to rape and stabbings. The woman eventually begins to cry.
The students posted the video to Facebook (because that's the kind of thing kids do). It was found by YouTube user CapitalTrigga who then uploaded it to YouTube "TO SHOW THE WORLD HOW FUCKED UP KIDS ARE."
And that it does. The video quickly went viral on Reddit and the local Brighton Pittsford Post is reporting that police and school officials are investigating the incident.
It's a tough watch (is it ok if I admit to not sitting through the whole thing?). Hearing those kids' taunts instantly brings you back to memories long since forgotten, things you once said or were said to you. I, for example, am now trying very hard to stop remembering the awful things the boys in my neighborhood and I used to yell at our bus driver all those years ago.
God bless people who work with middle schoolers. Those few years are awful.
UPDATE: While you can always depend on those attempting to maneuver puberty being little monsters, we can also depend on the kindness of strangers. After the video went viral, a fundraiser was set up online to give the monitor, Karen Klein, a vacation. The goal was $5,000. As of this writing (6pm on June 20th), it's already nearing $30,000! That's nearly twice Klein's yearly income! Check it out here.
Watch the video below:
(h/t The Blaze)
Have a tip we should know? tips@mediaite.com