Video of SWAT Standoff with Open Carrier: 'Why Don't You F*cking Shoot Me?!'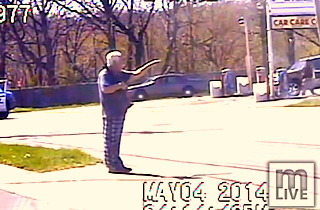 Just-released police footage showed a tense standoff between Kalamazoo, MI cops and a man carrying a rifle down the street last month, a situation eventually required the entire block to be shut down as a SWAT negotiator tried to convince the man to surrender his firearm.
Michigan laws allow residents to carry firearms but not to brandish them. After several emergency calls reporting an elderly man, possibly intoxicated and definitely in pajama pants, wandering down the street with an automatic rifle, cops responded and tried to detain him for jaywalking. He resisted the officers, gave his name as "Joe Schmoe," yelled about open carrier rights, yelled about revolution, accused the officers of being gang members, at one point repeatedly grabbed his crotch, and dared the officers, "Why don't you fucking shoot me?"
"I am not going to die because you're angry with me," the negotiator told him. At one point an officer is heard to say that the man had "far exceeded" his open carry rights.
The negotiator eventually convinced the man to surrender his rifle, which was returned to him the next day.
The man was not charged with brandishing a firearm. "After reviewing the report, the detectives felt the officer was right in taking the gun for safe keeping for that time because of the response they got back from the gentlemen who was walking down the street actually carrying the gun and moving it from shoulder to shoulder, but it wasn't enough to present to the prosecutor's office," the assistant police chief said.
Watch the clip below, via Michigan Live:
[h/t Michigan Live]
[Image via screengrab]
——
>> Follow Evan McMurry (@evanmcmurry) on Twitter
Have a tip we should know? tips@mediaite.com