Video Shows Police Cruelly Lying to John Crawford's Girlfriend After Killing Him at Walmart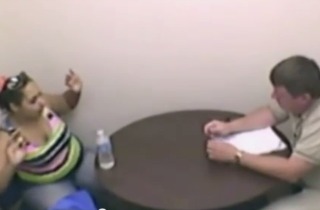 It's gotten slightly less coverage than the cases of Michael Brown, Eric Garner, or Tamir Rice, but the police shooting of John Crawford III back in August remains endlessly unnerving.
As you may recall, Crawford was gunned down by cops in an Ohio Walmart while holding an unboxed air rifle he'd taken off the shelf of the megastore. As they are wont to do, police officials immediately claimed it a "justified" killing because he had allegedly been pointing the weapon at customers, and refused to put the weapon down when asked.
Surveillance footage later revealed the opposite: He barely seemed aware of the officers before they shot him down within seconds. And, again, as they are apparently wont to do, the officers were let off the hook by a grand jury decision not to indict.
And yet here we are, peeling back the onion to discover yet another stinky layer to this story: Immediately after killing Crawford, police brought his girlfriend, Tasha Thomas, to the station for an intense 94-minute interrogation with detective Rodney Curd, who not only withheld the information that her lover was dead, but attempted to get her to suggest Crawford had brought the gun into the store himself.
Curd accuses Thomas of lying about Crawford's alleged gun possession, which causes her to start sobbing (at times heaving and shaking) while repeatedly denying that her boyfriend owned a gun or carried one when she dropped him off at the store. At another point, the detective asks her if she's on drugs; and at another, he insulted her: "Your eyes are kind of messed-up looking and you seem lethargic or tired, but I don't know if it's because you are upset or not."
As you can imagine, the 6-minute snippet obtained by The Guardian is difficult to watch, especially when you realize Thomas is being interrogated without any knowledge of her boyfriend's death. And when they finally informed her that he was dead, they put the blame solely on Crawford: "As a result of his actions, he is gone."
Here's the kicker, via Reason's Robby Soave:
As for Curd, he said he didn't know at the time of the interrogation that the gun was fake and available at Walmart. He was operating under the assumption that Crawford must have smuggled it into the store. But even that explanation is suspect. According to Crawford's attorneys, it would have been perfectly legal under the state's open-carry laws for the man to carry a gun into Walmart.
The state is never wrong. Watch below:
— —
>> Follow Andrew Kirell (@AndrewKirell) on Twitter
Have a tip we should know? tips@mediaite.com