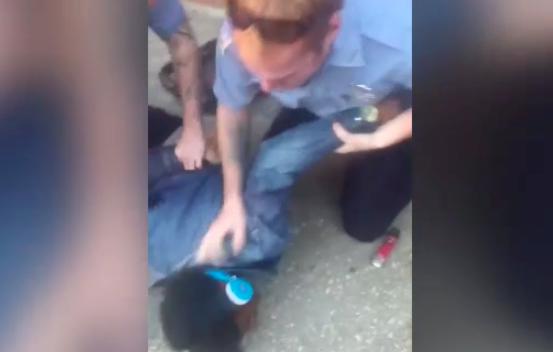 Demonstrators gathered in D.C. Tuesday to protest the latest installment of excessive police force in the United States.
On Monday, D.C. Metropolitan Police converged on 18-year-old Jason Goolsby as he stood outside of a bank on Pennsylvania Ave. Goolsby, who was with two friends, ran as the cop cars approached him.
Several blocks away, police detained him. Footage of the event — shot by one of Goolsby's friends — shows officers two officers pressing the teen into the ground while wrangling his arms behind his back. As Goolsby screams, officers tell him to "stop resisting." Goolsby's friend repeatedly tells officers that the teen had done nothing wrong. Officials later detained the videographer for interfering with a police investigation. No charges were filed against either teen.
The Metropolitan Police Department received a claim that "three subjects may be trying to rob people at the ATM," and officers chased and detained Goolsby after the teen fled. Goolsby asserts that he ran after a police car almost hit him.
Activists rallied around Goolsby demanding #JusticeForJason; in the aftermath of the confrontation, demonstrators holding Black Lives Matter signs marched through D.C. to protest the teen's detention. The brutal video has since gone viral.
Erika Totten, a Black Lives Matter activist who taught Goolsby in high school, told The Washington Post, "white fear of a black boy caused that." She retweeted a statement that Goolsby "wouldn't hurt a fly:"
Absolutely the truth. He's literally one of the sweetest boys I've ever had the honor of teaching. #JusticeForJasonhttps://t.co/VJdLQHf0ji

— Erika Totten (@2LiveUnchained) October 13, 2015
Check out the above video from The Guardian.
[image via screengrab]
—
>> Follow Elizabeth Preza on Twitter (@lizacisms)
Have a tip we should know? tips@mediaite.com