Video: Why GOP Rep. West Called DNC Chair Wasserman Schultz 'Vile' And 'Not A Lady'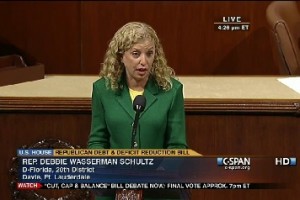 Rep. Allen West (R-FL) launched a blistering, sexist attack on Rep. Debbie Wasserman Schultz via email Tuesday, calling her "vile, unprofessional , and despicable," and saying that she is "not a Lady."
West's attack followed remarks by Wasserman Schultz on the House floor during debate over the so-called "Cut, Cap, and Balance" bill, which begs the question, given the bilious nature of his email, what the hell did she say?

Rep. West flipped all the way out in his email, calling Rep. Wasserman Schultz a "coward," and telling her that, if she has something to say, "say it to my face." So, the fact that West couldn't wait around a few seconds after he spoke (Wasserman Schultz's remarks began less than a minute after West's remarks concluded) somehow makes Debbie Wasserman Schultz a coward. Whereas, ducking out before her remarks and copying the House leadership on a nasty email is the picture of courageous, face-to-face stuff-handling.
Still, Rep. Schultz must have said something pretty crazy to set him off like that. Did she declare a jihad on south Florida puppies? Not exactly:
That's it? Rep. West went all to pieces over a little light Medicare patter? It's true that "Cut, Cap, and Balance" exempts Medicare from specific spending caps, but as TPM points out, the bill's version of a Balanced Budget Amendment (BBA) is just a way to shoot Medicare in the back, rather than in the face.
Perhaps more damaging to West, at least to 21st century voters, is his sexist closing line, in which he tells Rep. Wasserman Schultz, "You have proven repeatedly that you are not a Lady, therefore, shall not be afforded due respect from me!"
That remark drew strong condemnation from (among others) Emily's List, who are running a petition demanding that West apologize:
Cong. Allen West's angry, hostile tirade to DNC Chair Debbie Wasserman Schultz is truly despicable. If you had any doubt about the Republican war on women, look no further than West's email — it's threatening, sexist and demeaning. We can't sit by and watch such an appalling action from one of our elected officials.
Of course, describing a "Republican war on women" isn't exactly fair. Conservatives have been quick to call out sexism and misogyny directed against politicians like former Gov. Sarah Palin and Rep. Michele Bachmann, and are probably just instants away from leaping to Rep. Wasserman Schultz's defense.
West is unlikely to apologize, and has already reinforced his remarks through a spokesperson. A spokesman for Rep. Wasserman Schultz responded to West's remarks in an email to The Hill:
"I don't think that Congressman West is upset at the congresswoman, but rather with the fact that she highlighted that he and other Republicans are once again trying to balance the budget on the backs of seniors, children and the middle class," Jonathan Beeton, spokesman for Wasserman Schultz, said in an email.

…"As someone who lives in Congresswoman Wasserman Schultz's congressional district, Congressman West knows that we have hundreds of thousands of seniors in South Florida who have paid into Medicare throughout their lives and now rely on this program to keep them healthy and active," Beeton said. "The truth hurts."
Have a tip we should know? tips@mediaite.com